2700K vs 3000K vs 4000K vs 5000K vs 6500K, which one is better?
2700K vs 3000K vs 4000K vs 5000K vs 6500K, which one is better?
author: Ivan Huang
2023-02-13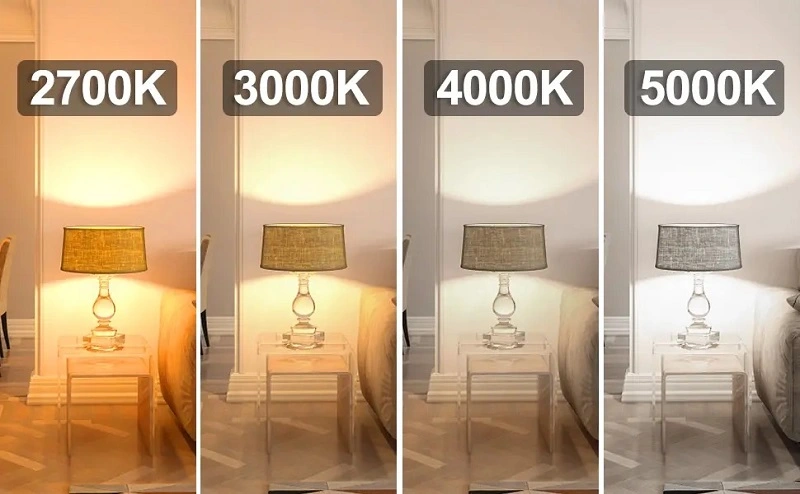 Getting that perfect lighting color in your home is very important as it can look visually appealing, creates an ambiance and brings out good mood and energy. Before we explain the difference in 2700K, 3000K, 4000K, 5000K and 6500K, we need to introduce color temperatures firstly.
A Brief Note on Color Temperatures
Color temperature is a way to describe the light appearance provided by a light bulb. It is measured in degrees of Kelvin (K) on a scale from 1,000 to 10,000.
Typically, Kelvin temperatures for commercial and residential lighting applications fall somewhere on a scale from 2000K to 6500K.
Importance of choosing the right color temperature
Choosing the right color temperature allows you to avoid complications with the eyes, which may irritate.
The right color temperature allows you to spend on the right commodity that you need and not incur recurrent expenses on electricity consumed unnecessarily.
Choosing the wrong color temperature may affect the moods and activity in the given environment example from bright to dull has the effect of dampening the mood.
Having the right color temperature helps you invite more customers because they get attracted to a specific color temperature.
How does warm white/natural white/cool white color impact mood?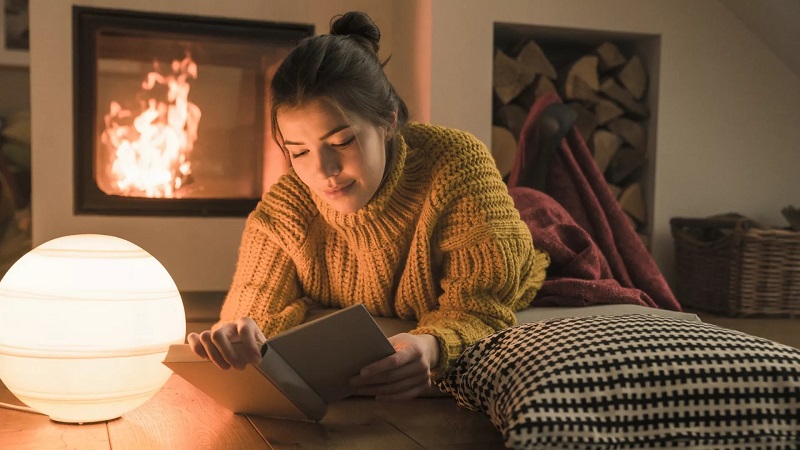 As discussed earlier, we must mention that color temperatures can affect mood. A warm color temperature (i.e., warm yellow light) inside a room can trigger sleep hormones such as Melatonin to help you relax and fall asleep. This can help you to fall asleep faster and more effectively.
Apart from warm light, a cool and blue light-covered room can make an individual more alert. This is because serotonin release can boost mood and energy levels.
In house areas that require an extensive amount of alertness, whether work or discussion, you should use 4000K white and cool light.
But when it comes to relaxation and aesthetics, choosing a medium bright color such as 3000K LED lights or lower can help.
Traditional incandescent light bulbs illuminate when the filament inside the bulb gets so hot that it begins to emit light. At full brightness, the filament's temperature is approximately 2700 degrees Kelvin, hence the 2700K rating.
In short, a non-incandescent bulb (e.g. 
an LED A19 bulb
) with a 2700K color temperature rating, will have a light color similar to an incandescent bulb. If you like the color of the traditional incandescent bulb, 2700K is the color temperature you need.
2700K provides a very nice and warm atmosphere, and is a great choice for living rooms and bedrooms where you would want to promote relaxation.
3000K light is a slightly more pure, neutral white color compared to 2700K. It has less of a yellow/orange hue, and will appear "crisper" for that reason. If you have any halogen bulbs (e.g. MR16 style spotlights), there is a good chance they emit a 3000K light color.
If you personally don't like the incandescent light bulb color of 2700K, or you want to be able to have a bit more color acuity, 3000K is most likely your best option. We typically recommend our customers to consider 3000K lighting for kitchen, laundry, bathroom and home office areas where visual tasks are more common, and warmth and relaxation is not the primary objective.
As the 4000K Color Temperature is more than 3000K, the colors are also slightly less warm but still yellow. If we put 3000K and 4000K lights side-by-side, we can say the 3000K light as slightly darker tone of yellow white and the 4000K light as a lighter shade of yellow white.
Anything beyond 4000K, the blue color starts dominating the lights with 5000K and 6000K color temperatures being close to white light and daylight colors.
PRO TIP: Blue Wavelengths are generally harmful to eyes and we recommend to use warmer color whenever and wherever possible. Also, most display units (TVs, Laptops, Mobiles etc.) have an option to warm up the display to reduce blue light. In Windows, this option is in the display settings as "Night light". In Samsung Mobile Phones, we have a "Blue light filter" setting. You can find similar settings in other devices as well.
A 5000k LED light has a color temperature of 5000 Kelvin. This is a very popular color temperature for LEDs because it produces a cool white light that is similar to the light produced by fluorescent bulbs.
5000K LEDs are often used in kitchens and bathrooms because they provide more illumination than 4000K LEDs.
2700K vs 3000K vs 4000K vs 5000K vs 6500K?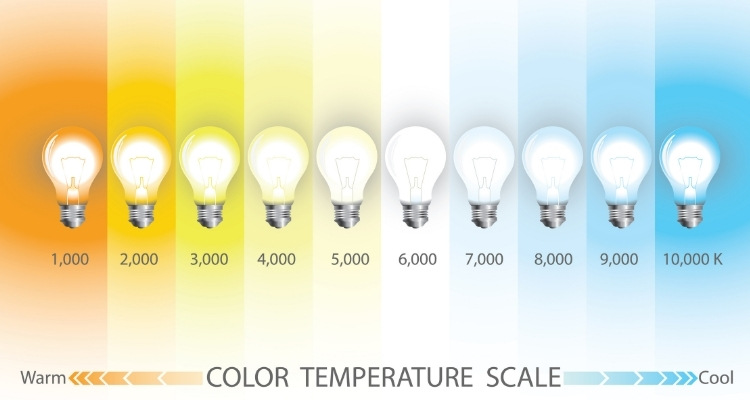 Bedrooms, Living Rooms, lounges,

cafes, bars, and restaurants

Bedrooms, Living Rooms, lounges,

cafes, bars, and restaurants

Bathrooms, Garages, offices, lobbies,

schools, garages, and the kitchen

bathrooms, basements, study room,

security lighting, hospitals, factories

streetlights and warehouses
Here is a quick guide to understanding temperatures on a scale:
1700K – dull warm glow similar to a match flame
2700K – warm incandescent bulb
3000K – soft white, bright sunrise or sunset
4000K – bright white typical of fluorescent lighting
5000K – very bright, similar to daylight
6500K – Cool, bright similar to a computer monitor
7000K – Ultra-cool bright halogen at highest setting
In most residential and commercial lighting applications, a fixture's color temperatures will range from 2700K to 6500K. 3000K light is the most common choice and often referred to as soft white. 2700K and 4000K light color are commonly selected too. This range of color temperatures provides the greatest flexibility for usable light for both residential and commercial applications.
Don't forget about color rendering

In our discussions thus far, we have left out the variable of color rendering, typically measured using the Color Rendering Index (CRI for short).
You may have felt that a 2700K bulb is too yellow or "dingy" not due to its color temperature, but due to its CRI value. A low CRI value, independent of color temperature, can cause objects to appear washed out and dull. As such, we recommend making sure that if you decide to rule out 2700K bulbs due to your prior experience with them, that you confirm that it is indeed the color temperature you didn't like, and not an issue with its CRI value.
1. When do we need CCT less than 2700K or over 6500K?
The "higher" cooler color temperatures
 (over 6500K)
 are often found in industrial or specific commercial applications where ultra-bright cool light is required. While the soft and warmer temperatures
(less than 2700K)
 are often found in under cabinet lighting applications or where dimmable LEDs may be preferred.
2. Is 4000K or 5000K better?
A 5000K LED bulb produces a bright daylight kind of color. So, it's good for bathrooms, basements area and your study room. You can even use it in the kitchen when you work. A 4000K LED bulb produces a bright white or cool toned kind of color which gives a warm effect as well as bright enough to work beneath it.
3. Which Kelvin is best for eyes?
If the color temperature of the light source cannot be adjusted, research suggests that a color temperature of 4000 kelvin provides maximum comfort for our eyes when using computer screens and other devices. That means that if you must pick one color temperature, 4000 is the number to go with.
4. Should I get 2700 or 3000K for living room?
There is a minor difference between the 2700K lights and 3000K lights. However, 3000K lights are suitable for active areas like home offices, hallways, bathrooms, and kitchens while 2700K lights are suitable for areas related to warmth and relaxation, like the living room, dining room and bedroom.
It is advisable to always take in considerations of the different color temperatures before deciding to make purchases. A little research will provide valuable information that will assist you. We hope this article can shed some light on the different color temperatures and their uses.