Home
News
News
Company News
Exhibition review: Hanron RGBIC led strip appeared at 2021 Ningbo International Lighting Exhibition and were very popular
Exhibition review: Hanron RGBIC led strip appeared at 2021 Ningbo International Lighting Exhibition and were very popular
2021-05-17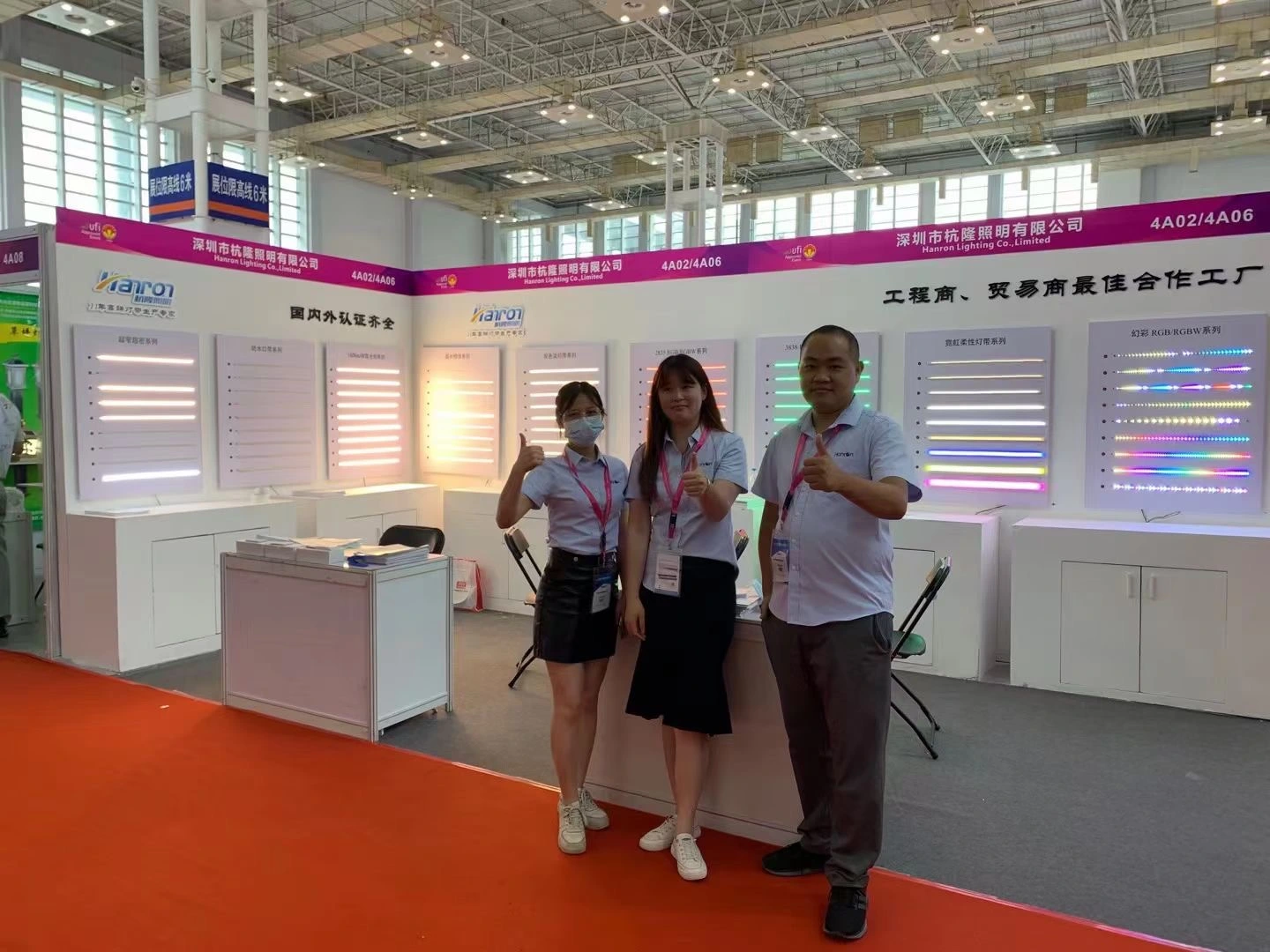 From May 13th to 15th, 2021, the annual Ningbo International Lighting Exhibition (hereinafter referred to as the Ningbo Exhibition) kicked off at the Ningbo International Convention and Exhibition Center. As one of the largest industry events in China, this exhibition has an exhibition area of
50,000 square meters. More than 1,500 lighting and related companies from home and abroad participated in this professional lighting exhibition.
Date: May 13-15, 2022
Booth: Hall 4 A02 A06
Address: Ningbo International Convention and Exhibition Center
As a world-renowned provider of LED strips and linear lighting solutions, Hanron Lighting brought its dream color led strip products to this annual lighting event, gathering with many lighting industry elites to explore industry trends together.
Hanron
RGBIC led strip Product Series
RGBIC led light strips can realize various changes through the control system, including running water chasing, multi-color circulation, single-color walking, two-color filling, etc., widely used in outdoor landscape lighting, KTV, club lighting, game console lighting, computer chassis lighting etc.
Hanron Advantages List
1. 12 years of professional production of LED light strips, from raw materials to finished products have a good quality control to ensure the stability of quality
2.. All rgbic led strips use brand chips to ensure high speed and high stability of data transmission, 0 maintenance cost
3. There are many kinds of products, including SPI signal light strips and DMX signal light strips, and can also provide OEM&ODM services for customers
4. Complete product certification, including ETL, CE, RoHS, Reach, LVD, etc.
5. High cost performance, as a source factory, minus intermediate links to ensure high cost performance of product prices
At the exhibition site of this Ningbo Exhibition, Hanron's booth is located in Hall 4, A02 A06. The well-designed booth fully displayed the company's various advantageous products. During this 3-day exhibition, it has been widely recognized by the industry. It also attracted the attention of many professional audiences and industry media.
Hanron was a great success in this Ningbo exhibition. In the future, Hanron will continue to serve China's intelligent manufacturing, join hands with partners, grow together, and achieve great results!