What's the IP Ratings of the waterproof led strip lights?
author: Ivan Huang
2022-01-04
While LED light strips are widely used by everyone, some customers often choose inappropriate products because they don't know the different waterproof levels of light strips. Either the cost is too high, or the waterproof level is not up to the level, resulting in damage to the light.

Here, we introduce to you the difference between different waterproof grades: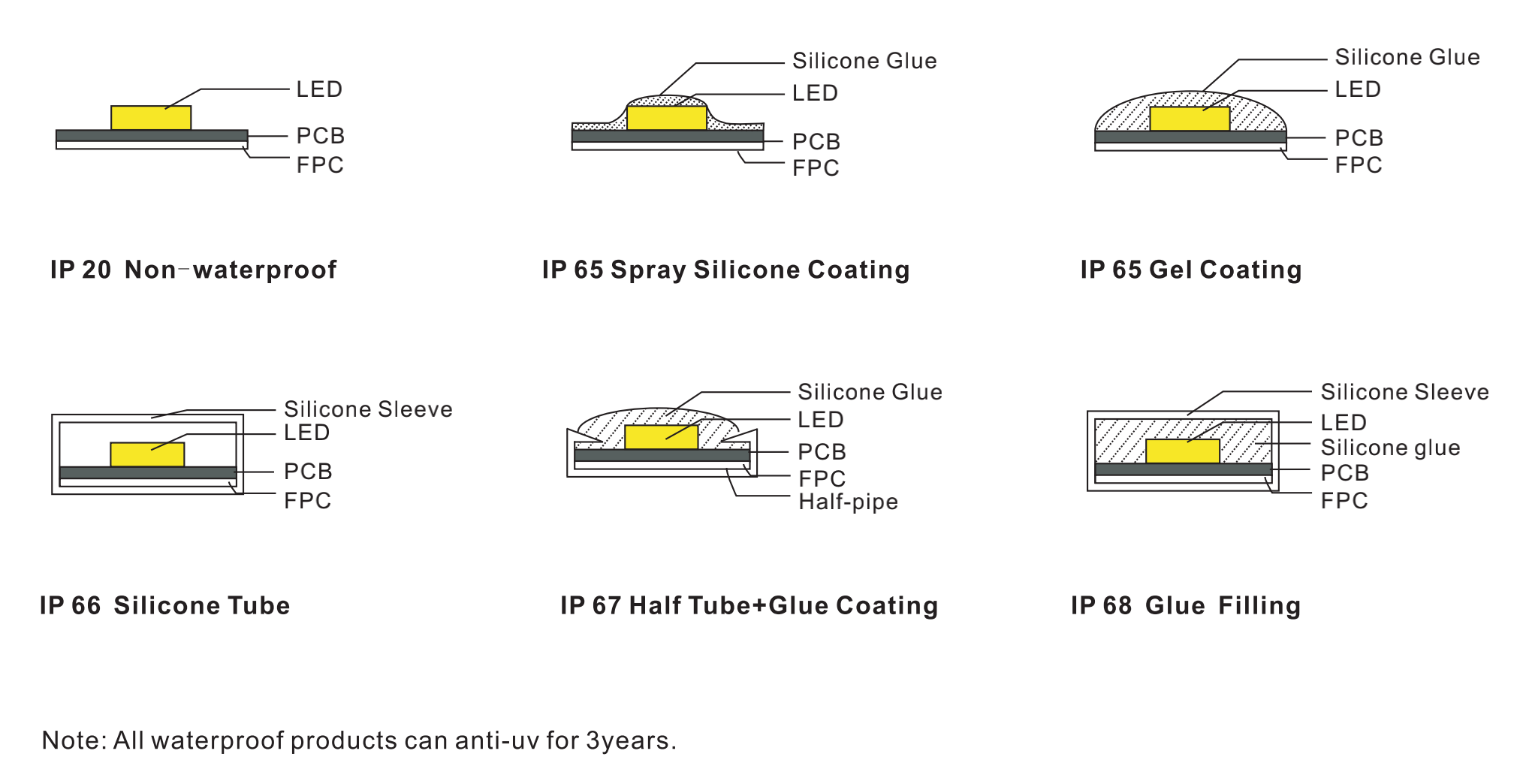 According to the above chart, we can know that LED strips can be divided into IP20/IP65/IP66/IP67 and IP68 according to different waterproof grades. Below we will introduce in detail according to different waterproof grades.

First of all, IP20 is non-waterproof. This product needs to be used indoors in a non-humid environment. Generally, it is suitable for use with aluminum + PC cover, which can help heat dissipation and prevent people from seeing the light beads directly. Sometimes in order to save costs, we can use it directly without aluminum; however, if the power of the product is higher than 16W/m, it needs to be used with aluminum, otherwise it will greatly affect the life of the LED strip.

Second, IP65 spray glue is waterproof. This kind of waterproofing is actually not good. It is conventionally used for S-shaped light bars or light bars used with mirrors. It is not used for outdoor use.

Thirdly, IP65 Epoxy is waterproof, this kind of waterproof method is very common, so we do a more detailed analysis
1) IP65 is a kind of publicity for this kind of waterproofing in the market. In fact, the waterproof grade is only IP54, which cannot be used for outdoor use. Some customers are not aware of this situation and directly use it outdoors, the led strip will easily be damaged.
2) The glue mainly includes silica gel and PU glue. Epoxy glue was also available before, but it has been eliminated by the market because of its poor performance and strong taste.
3) Silica gel: Silica gel waterproof is a kind of glue generally accepted by the high-end market, because the product can resist yellowing for 3 years, and has good heat dissipation effect and stable performance. However, silicone waterproofing also has the disadvantage of being easy to stick to dust and being more brittle.
4) Cheap PU glue, which is generally accepted in the low-end market or B2C market, because the price is low. However, this kind of conventional anti-yellowing time is only half a year to a year, and customers with high quality requirements are often unwilling to use this glue.
5) High-end PU glue, which many high-end customers don't understand. This glue can also resist yellowing for 3 years, the quality is very stable, it is not easy to stick to dust, and it is not brittle. The only disadvantage is that the heat dissipation performance is not as good as silica gel. In the environment where the power of the light strip product is not very high(less than 16W/M), or there is aluminum to assist heat dissipation, and people can contact the lamp, high-end PU glue is even more suitable than silica gel.


Fourth, IP66 waterproof, this kind of customer also call IP65 or IP67, the product itself can be used outdoors where it will not be soaked in water, and it is also a waterproof method that is very popular with customers. The low-quality IP66 casing is not so good in UV resistance due to its thin material, so it is not recommended to be used outdoors.

Fifth, IP67 waterproof, the cost of this kind of waterproofing is the same as that of IP68, it is generally not recommended for customers to choose

Sixth, IP68 waterproof, this is mainly the way of casing + glue or silicone extrusion, which can be used in places less than 1.5 meters underwater. When using it, it is necessary to take special waterproof treatment at the connection head.

Of course, there are also heat-shrinkable tube waterproof and nano waterproof lamp methods in the market. If you want to know more detailed information, you can contact us for business communication.