WS2812B led strip VS WS2813 led strip VS WS2815 led strip
2021-12-30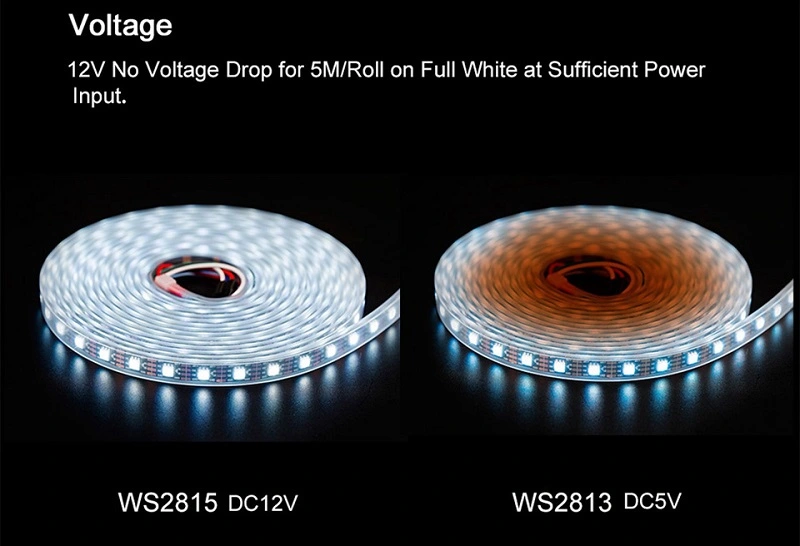 With the rapid growth of the led addressable led strip in the market, many companies have begun to pay attention to this kind of product. Customers who are new to the industry often do not know the difference between WS2812B, WS2813, and WS2815 light strips.

Hanron has been producing led light strips for 11 years and has 500+ types of addressable led strips, and it has also accumulated a wealth of related knowledge. Here, we will tell you in detail the main differences between these light strips.

WS2812B LED strip (also called WS2812 LED strip)

Main Feature:
1. WS2812B light strip is one of the most popular addressable led strip products on the market
2. This led strip is individually addressable, and it can achieve up to 144 lights in one meter, which can meet almost all the conditions for the use of illusion.
3. Although everyone says it is the WS2812B light strip, in fact, this series has WS2812E and WS2812B series. More than 90% of the current circulating market are WS2812E products, not the real WS2812B. In addition, there are also some small manufacturers selling other ICs pretending to be WS2812B. For ordinary end buyers, they cannot tell the difference.
4. WS2812B does not have the function of breakpoint continuous transmission, so if a lamp bead is damaged, the light strip behind this lamp bead will appear garbled or not light up
5. There is also a SK6812 RGB lamp bead in the market. The performance of this lamp bead is the same as that of WS2812B, and it is also a high-quality product.


WS2813 LED strip

Main Feature:
1. WS2813 led strip has all the performance which WS2812B has
2. WS2813 is the same as WS2812B, whether the quality of the product is genuine lamp beads instead of counterfeit products produced by small companies
3. WS2813 has the function of breakpoint continuous transmission, that is, there are 2 signal lines. A damaged IC will only affect the group of lights that damaged the IC, but will not affect the lights behind the IC
4. Therefore, WS2813 light strip can also be regarded as an upgraded version of WS2812B, and customers with higher quality requirements can choose WS2813 light strip
WS2815 LED strip

Main Feature:
1. This series with rapidly expanding market share, more and more customers like WS2815 strips
2. WS2815 led strip has all the performance that WS2813 has and it also has the function of breakpoint continuous transmission.
3. Compared with WS2812B and WS2813 which only have 5V, the voltage of WS2815 is 12V, which is welcomed by customers because:
1) Compared with 5V light strips, the voltage drop of 12V led strip is smaller, and longer light strips can be connected, which is more convenient for installation
2) The 12V adapter has a lower cost and higher power


In general, the main difference between the WS2812B light strip and the WS2813 light strip is whether there is breakpoint continuous transmission function. The other performance is the same. The WS2813 light strip can be regarded as an upgraded version of WS2812B.
WS2815 is and upgraded version based on WS2813. The voltage is upgraded from 5V to 12V, which can greatly save customers' installation costs.