Top 24 lighting design software for lighting artist
Top 24 lighting design software for lighting artist
author: Ivan Huang
2022-11-24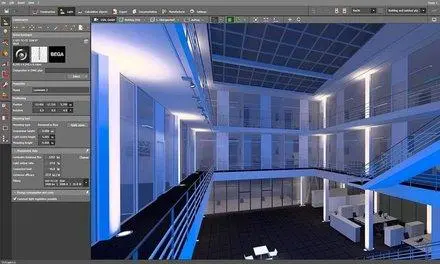 Lighting design software is crucial for practitioners who are engaged in lighting and lighting design. These softwares can simulate the real lighting scene, generate the performance scene according to the actual size of the performance venue, and install various equipment. The scene pictures, equipment configurations, and worksheets it generates are the necessary reference for lighting designers, design assistants, lighting operators, and maintenance personnel, and can effectively help users improve design efficiency.
 If you're an aspiring lighting artist, you might be asking yourself, what software program should you use? What Lighting Software Should You Master? This guide will introduce lighting design software from three aspects: design, rendering, and graphical resources.
We will carefully evaluate the capabilities of each program, analyzing them by category, namely:
Lighting design software
Relux
SweetLight
Light Artist
AGI 32
Visual 3D
DIALux
Radiance
CalcuLuX
Lumen Designer
Microlux
1.  

Relux

 

THE search machine for luminaires and sensors
Relux is a feature lighting design software for Windows that simulates artificial light and daylight. It offers tons of features to simulate lighting for a variety of indoor and outdoor projects. You can create a new project by selecting a template, such as Interior with CAD Floor Plan, Exterior with CAD Floor Plan, Interior with Background Image, Exterior with Background Image, etc. After that, you can use various objects to create the stage area, floor plan room objects, external objects, measurement objects, 3D objects, and more. This free stage lighting software also offers a specialized calculation module.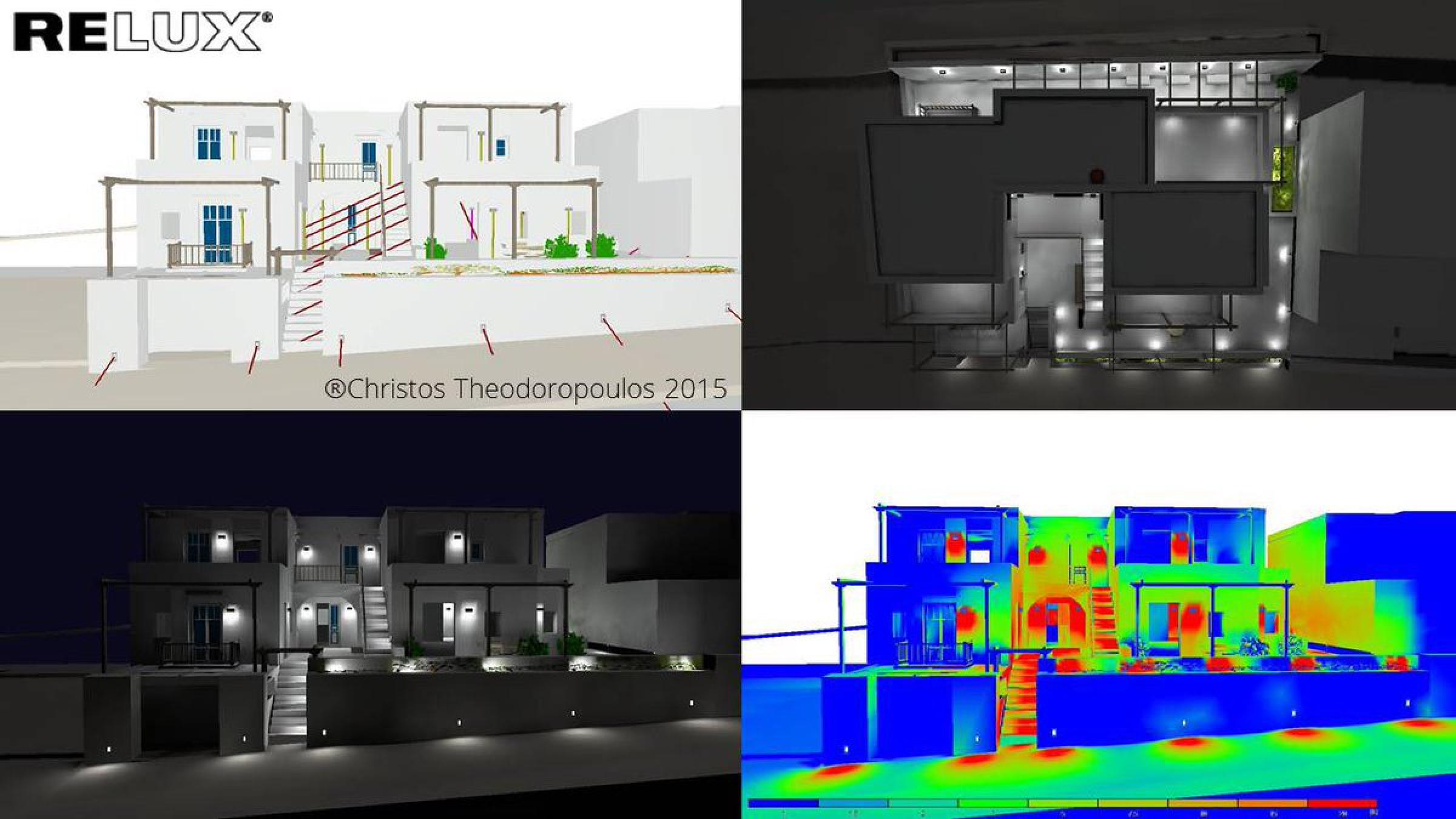 SweetLight is a powerful multi-platform controller offering users unparalleled capabilities to manage and control DMX lighting. The SweetLight DMX controller system includes powerful lighting control software (available as a free download) and a set of DMX interfaces to suit your requirements.
3. 

Light Artist

 --

Free photo lighting effects software
Light Artist is another alternative to Windows stage lighting software.


Light Artist comes with a wide range of different lighting effects to suit all kinds of photographs. Its most obvious and effective application is in transforming skies which it can do using various lighting effects but also by applying different coloured filters to the image giving a blue cast for example or more of a sunset effect with a palette of warm colours. It is possible to add multiple light sources change the surface qualities of an image even apply a 3D relief effect to a picture. With the range of effects and possible applications the potential for creating many different effects in a single image is considerable.
AGI 32 is a simulation application used by artists to design lighting projects.
AGi32 can provide numeric and rendered solutions for almost any lighting application, interior or exterior, including roadway, sports and daylighting.
With the ability to see results clearly for an entire project, AGi32 becomes a mock-up substitute that can save time and money by creating a virtual model of a proposed design. It can reveal characteristics and effects that would be hard to detect in anything short of the completed installation.

Visual 3D is a set of visual design tools designed to let users apply lighting in different scenarios. Visual 3D enables users to light and view photometric files using simple geometry and its graphic design toolset. This software program can also perform kinematic and kinetic calculations for biomechanical analysis of 3D motion capture data.
DIALux is the software for your professional lighting design. Plan, calculate and visualize lighting for indoor and outdoor areas. From entire buildings and individual rooms to parking spaces or road lighting. 
Whatever project you are planning, DIALux offers you a multitude of features and functions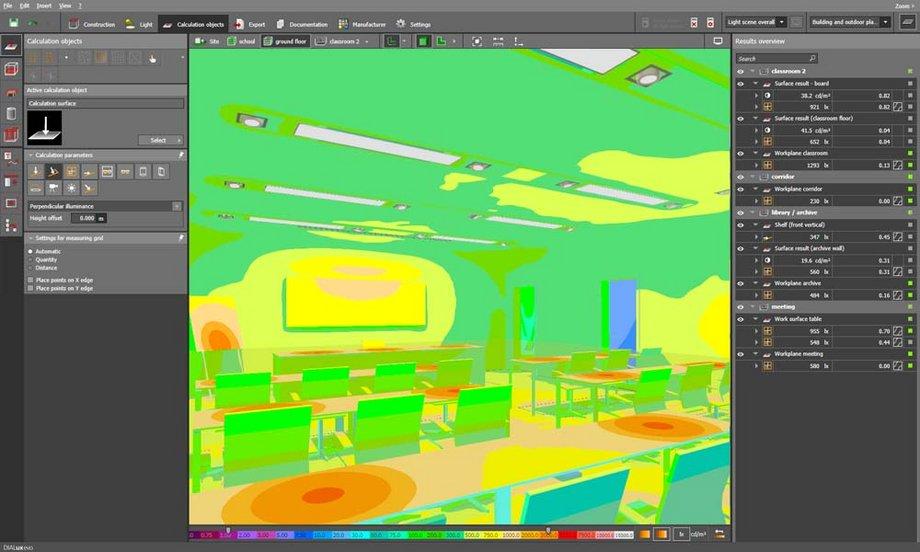 Radiance is a suite of programs for the analysis and visualization of lighting in design.

Input files specify the scene geometry, materials, luminaires, time, date and sky conditions (for daylight calculations). Calculated values include spectral radiance (ie. luminance + color), irradiance (illuminance + color) and glare indices. Simulation results may be displayed as color images, numerical values and contour plots.

The primary advantage of Radiance over simpler lighting calculation and rendering tools is that there are few limitations on the geometry or the materials that may be simulated. Radiance is used by architects and engineers to predict illumination, visual quality and appearance of innovative design spaces, and by researchers to evaluate new lighting and daylighting technologies.

Calculux is a tool which can help lighting designers select and evaluate lighting systems.
Calculux contain two applications: Area and Road.

Calculux Area performs lighting calculations on rectangular calculation areas in any plane.

With Calculux Road you're able to calculate and compare different lighting designs (Schemes) at the same time.

With Lumion Pro, there's no limit to how you can show your exterior, interior, landscape or urban designs.
In just a few simple clicks, you can visualize at any scale, convey your unique design style and add breath-taking atmosphere to every project. No matter your experience with rendering, you can achieve incredible results, incredibly fast.

Microlux is a free design and lighting software program for creating lighting projects that simulate 2D and 3D projects. The program has an awesome set of tools that you can use to explore different lighting in any environment. So it's an excellent tool for anyone aspiring to be a lighting artist.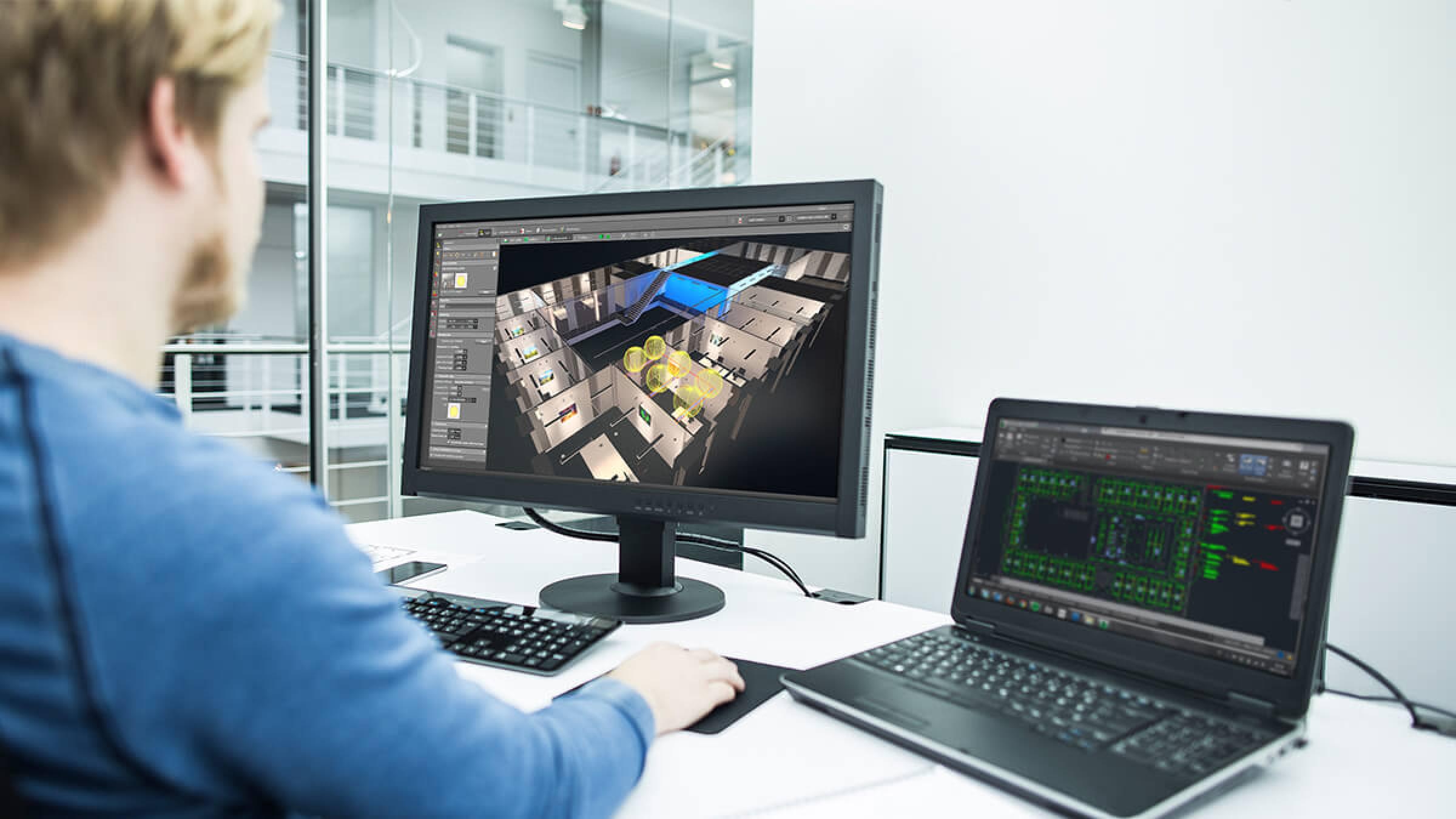 Modeling and rendering software
The following softwares are recommended
3DS Max
Cinema 4D
RenderMan
Maya
Keyshot
Maxwell Render
Unreal
3DS Max professional 3D modeling, rendering, and animation software enable you to create expansive worlds and quality designs. Bring your environments and landscapes to life with powerful modeling tools. Create elaborate designs and props with intuitive texturing and shading tools. Iterate and produce professional-grade renders with full artistic control.
Cinema 4D is a professional 3D modeling, animation, simulation and rendering software solution. Its fast, powerful, flexible and stable toolset make 3D workflows more accessible and efficient for design, motion graphics, VFX, AR/MR/VR, game development and all types of visualization professionals. Cinema 4D produces stunning results, whether working on your own or in a team.
RenderMan meets your expectations with its outstanding performance and features. Use it for visual effects, animations, extensibility, and more. It provides tools directly from ILM and Pixar, including light delivery and materials. It's used for geometry, shading, and lighting, among others, and is "battle-tested to real production requirements at Pixar and studios around the world." The program is available in commercial and non-commercial versions and features a comprehensive toolkit to meet the ever-growing needs for 3D animation and visual effects.
Maya is professional 3D software for creating realistic characters and blockbuster-worthy effects.
Bring believable characters to life with engaging animation tools.
Shape 3D objects and scenes with intuitive modeling tools.
Create realistic effects—from explosions to cloth simulation.

The Best 3D Rendering Software to Create Stunning Product Visuals.
KeyShot is designed to make 3D rendering and animation easy. It allows you to apply materials and lighting fast and provides the most accurate materials appearances and real-world lighting, all in a powerful interface that provides advanced capabilities and the ability to see all your changes in real-time.
KeyShot is extremely easy to learn and use to achieve photographic results in minutes through a simple, workflow-based interface with all the advanced capabilities for the most experienced 3D render professional.
Best lighting engine for designers, architects, and artists from any industry. We constantly strive to improve the realism quality of the render and make the engine faster and easier to use. Maxwell remains unbiased with an easy transition from GPU to CPU.

Unreal Engine is a complete suite of creation tools for game development, architectural and automotive visualization, linear film and television content creation, broadcast and live event production, training and simulation, and other real-time applications.
Unreal Engine is free to download, and comes fully loaded and production-ready out of the box, with every feature and full source code access included.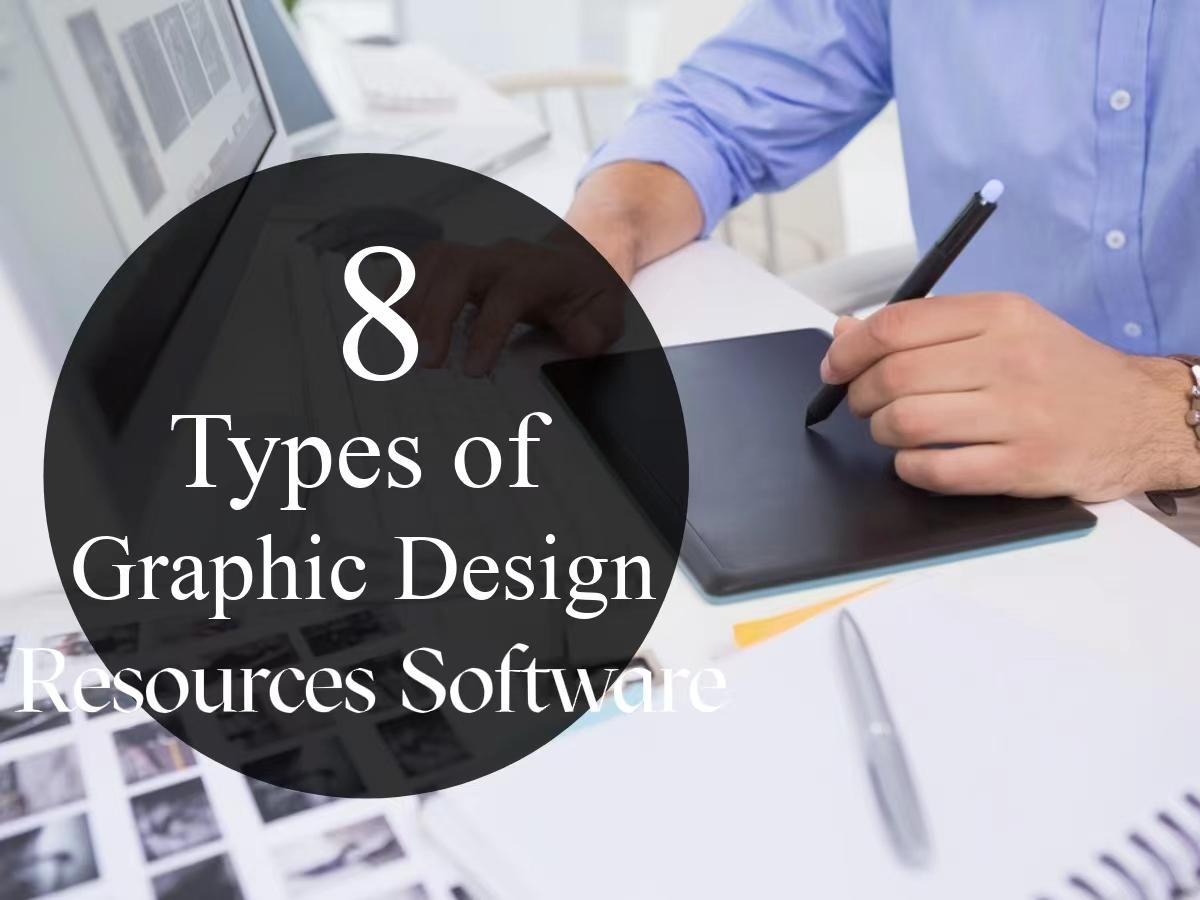 Software for graphic resources
Affinity Photo
Gravit Designer
Procreate
PhotoScape
GIMP
Adobe Illustrator
Adobe Indesign
Krita

As the only fully-loaded photo editor integrated across macOS, Windows and iPad, Affinity Photo is the first choice of millions of creative and photography professionals around the world. With incredible speed, power and precision, the award-winning software has everything you need to edit and retouch images, create multi-layered compositions, beautiful raster paintings and so much more.
It's also equipped with hundreds of timesaving tools and a completely redesigned UI to make your editing experience more seamless than ever.
You can use it with other Adobe programs, and InDesign offers a whole host of tools, from resizing to theme-aware text wrapping to color positioning. The software certainly packs in usefulness, but sometimes it can seem difficult to find the right settings, which some may find difficult to use. It is best suited for image-heavy posters, presentations, and documents. You can create a house style on the fly, making it a great time saver.
Loved by creative professionals, Procreate has everything you need to create expressive sketches, rich paintings, gorgeous illustrations and beautiful animations. Procreate is the complete art studio you can take anywhere, packed with unique features and intuitive creative tools.
Procreate comes with an entire library of brushes with everything from pencils, inks, charcoals, to artistic brushes that lay beautiful painterly textures. Each brush can be customised with the Brush Studio or you can download thousands of brushes to suit any style you can imagine. If that wasn't enough, you can even make your very own custom brushes.
The Free & Open Source Image Editor
GIMP is a cross-platform image editor available for GNU/Linux, macOS, Windows and more operating systems. It is free software, you can change its source code and distribute your changes.
Whether you are a graphic designer, photographer, illustrator, or scientist, GIMP provides you with sophisticated tools to get your job done. You can further enhance your productivity with GIMP thanks to many customization options and 3rd party plugins.
Adobe Illustrator wrote a book about vector graphics software. It sets the standard for professionally designed logos, artwork, icons, infographics and more and is one of the top choices for graphic designers. You can go from freehand sketches to vector images that can be scaled to any size. Adobe Illustrator handles graphics differently, not using pixels for seamless resizing but using mathematical formulas.
Adobe InDesign is the industry-leading layout and page design software. Create beautiful graphic designs with typography from the world՚s top foundries and imagery from Adobe Stock. Quickly share content and feedback in PDF. Easily manage production with Adobe Experience Manager. InDesign has everything you need to create and publish books, digital magazines, eBooks, posters, interactive PDFs, and more.
Krita is an open-source digital art software for a variety of media, including animation, BMP files, and 2D drawings. Krita offers many features, including industry standards and innovative designs, to make painting more fun and efficient, and the platform appeals to a slew of digital artists. As a free tool, it's powerful and great value for money, making it an excellent learning tool. It handles photo-editing basics well, though its UI isn't always intuitively outdated. Krita is best for those who are new to illustration and want to start learning without a subscription.
The above are the top 24 lighting design software recommended by Hanron.