RGB vs RGBW vs RGBWW vs RGBIC vs RGBCCT led strip lights
author: Ivan Huang
2022-10-31
Led strips are becoming more and more popular in modern decoration, and currently, the most popular items are white LED strips. However, with the increasing number of usage scenarios, multi-color led strips, such as rgb led strips, rgbw led strips, rgbww led strips, are more and more popular among customers. However, many customers do not know the difference between these products. Today I will give you a very detailed explanation, hoping to help you.

1. What is rgb led strip?
The

rgb led light strip

refers to a light strip composed of RGB led chip, PCB boards and resistors. The commonly used led chip for this kind of light strip are 5050 RGB, 2835 rgb and 3838 RG. This product can realize different changes of 265 colors through the continuous switching of red, blue and green 3 colors.
2. What is rgbw led strip?
The rgbw led light strip refers to the LED light strip with white light in addition to the three chips of red, blue and green. The CCT of this white light can be 3000K, 4000K, 5000K, 6000K, etc. At present, the most popular rgbw led strip is made of 5050rgbw 4 in 1 led. Of course, by combining RGB led chip with white light, we can also make rgbw led strips, such as 5050 rgb+2835, 5050 rgb+3528, 3838 rgb+2835, etc.
3. What is rgbww & rgbcct light strip?

rgbcct led light strip, also called rgbww led light strip or rgbcw led light strip, this kind of light strip has two kinds of white chips( warm white and cool white) in addition to red, blue and green chips.
At present, the most popular rgbcct led strip is made of 5050 5-in-1 led chip; of course, it can also be composed of RGB led chip plus two white led chip, or RGB led chip plus ww/cw 2in1 led chip. 
4. What is RGBIC led strip?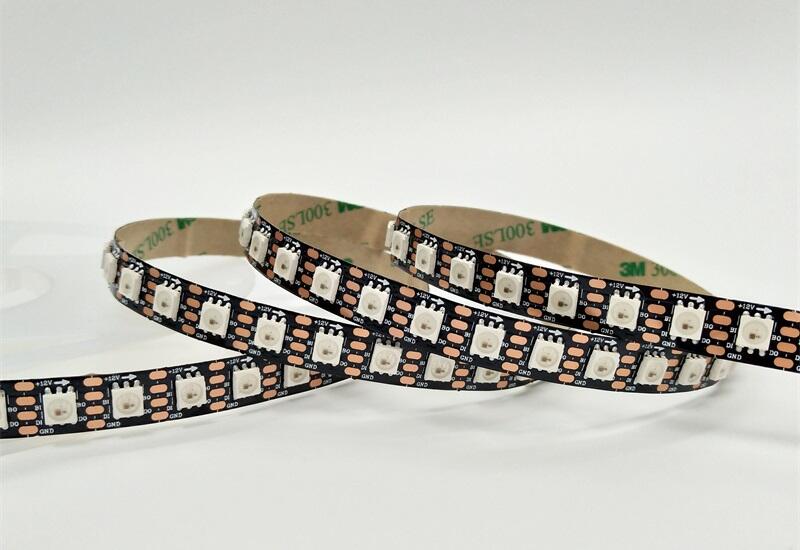 RGBIC led strips

refer to rgb strips with built-in or external IC, which can realize different colors of led strips at different positions at the same time. Through such settings, we can achieve animation changes, or special lighting effects such as flowing water, and the colors are richer and more delicate.

5. RGB vs RGBW vs RGBWW vs RGBIC vs RGBCCT LED strip light
Feature
RGB LED strip
RGBW LED strip
RGBWW LED strip
RGBIC LED strip
Color

RGB

RGB+White

RGB+WW+CW

RGB 或RGBW

LED Chip

5050 rgb

5050 rgbw 4in1
Or
5050 rgb+2835 White
5050 rgbww 5in1
5050 rgb+2835 NW+2835 WW

5050 rgb or rgbw

Brightness

Normal

Medium

Expensive

Normal or Medium

With IC or not

/

/

/

Yes

Price

Normal

Medium

Expensive

Expensive
6.  What's the difference between their controllers?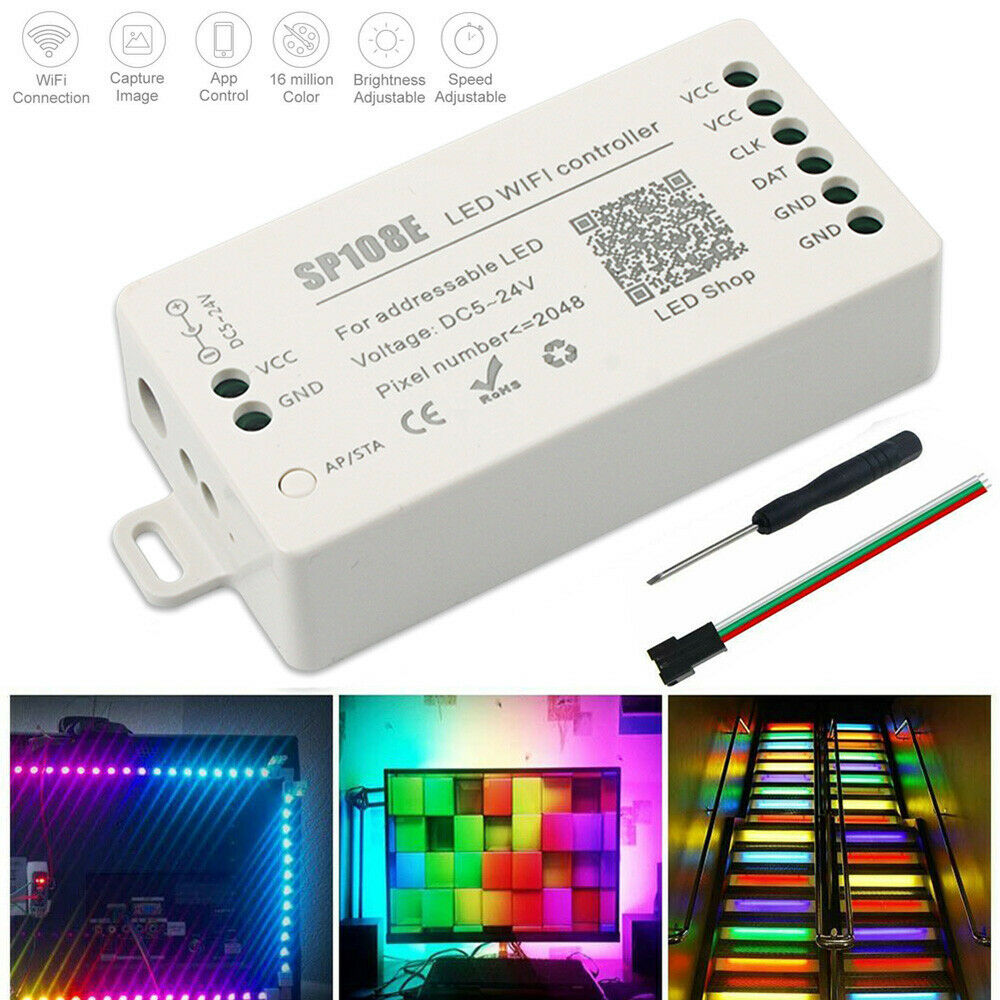 Firstly, the

LED controller

of rgbww & rgbcct light strip has five channels, corresponding to V+, R, G, B, CW, WW respectively. This controller is also compatible with RGB strips and RGBW strips.


Second, the controller of the rgbw light strip has four channels, corresponding to V+, R, G, B, W respectively. This controller is also compatible with RGB strips, but cannot control rgbcct strips well.

Third, the controller of the rgb light strip has only three channels, corresponding to V+, R, G, B respectively. Because rgb light strips are the most popular type of light strips in the market, rgb controllers are also the most widely used, with many types. For example, there are ordinary 24-key/48-key button controllers, touch-sensing controllers, Wifi, Bluetooth, DMX and other forms.

Finally, the RGBIC controller, this controller is different from the above 3 controllers. It does not control the light strip through current, but achieves color control by controlling the pixels of the light strip.
7. Which led strip is better?

Firstly, it mainly depends on our own use requirements. At present, the most popular color led strips are rgb led strip, and it has been able to meet most of the application needs.

Second, if you have high requirements for white light in product applications, it is best to choose RGBW led strips. Because the white light obtained by mixing red, blue and green chips is not so pure, the Ra is generally only 70 or lower, and the brightness is not enough to meet the needs of high-end engineering. The white light in RGBW can achieve higher brightness by customizing the color temperature and optical parameters, and Ra can also achieve 80 or 90.

Third, if in addition to red, blue, green and white light, you also want this led strip to be able to achieve color changes between white light and warm white light, then you need to select rgbww led light strips.

Fourth, if you require the effect of running and beating with this light strip in the process of using it, or similar to the effect shown in the video, then you need to choose the RGBIC LED light strip.

Finally, the price of different kinds of products is not the same. In addition to considering the application of the led strip, we also need to consider our budgets. If the budget is sufficient, the RGBWW led strip is the best, because one of its features is more rich and can meet the needs of various applications. If the budget is relatively general, we can decide ordinary rgb led light strips, which can also meet most of our usage requirements.
 
8. People also ask
8.1 Which one is better?  RGB or RGBW?
If all you're after are basic RGB colors with no requirement for a proper white, then a basic RGB LED strip is generally more cost effective.  However if you do need white (for example for task lighting) then RGB+W is a better bet.
8.2 Can RGB LED produce white light?
Prism white, (also referred to as RGB white) is simply a combination of red, green, and blue light altogether to make a color that seems a little bit like white. But let's be honest here, it looks more like a rainbow than it does white!
If you want pure white color, then you have to choose rgbw led instead. Besides the red, green, and blue LED chips, there is a white LED chip in RGBW LEDs. An extra white LED chip can obtain more real and bright white light.
8.3 What is the difference between rgbw and rgbcw/rgbww(or rgbcct)?
RGBW and RGBCW/WW have one simple difference, RGBW has a single channel of pure white with one color temperature. RGBCW/WW has two white channels, which allow adjustment between two white temperatures.
8.4 Is RGBIC better than RGB?
RGBIC LED Strip Light is something new that has a major advantage over regular RGB LED Strips lights: you can set multiple colors at the same time on the strips. This is possible because of its ICS (hence the name) and segmentation.
8.5 Is RGBW brighter than rgb?
RGBW four-color is created by adding a white chip to RGB. So, normally, RGBW is much brighter than RGB and has higher light efficiency. Yet, rgbw also uses more power.
9. Summary
Through the above analysis, we know that RGB, RGBW, RGBWW, RGBIC, RGBCCT led strips, their main differences are different colors and different scenarios. In actual use, we need to choose the right product according to our specific needs and budget.