Best LED Driver & Power Supply Brands List
author: Ivan Huang
2022-11-03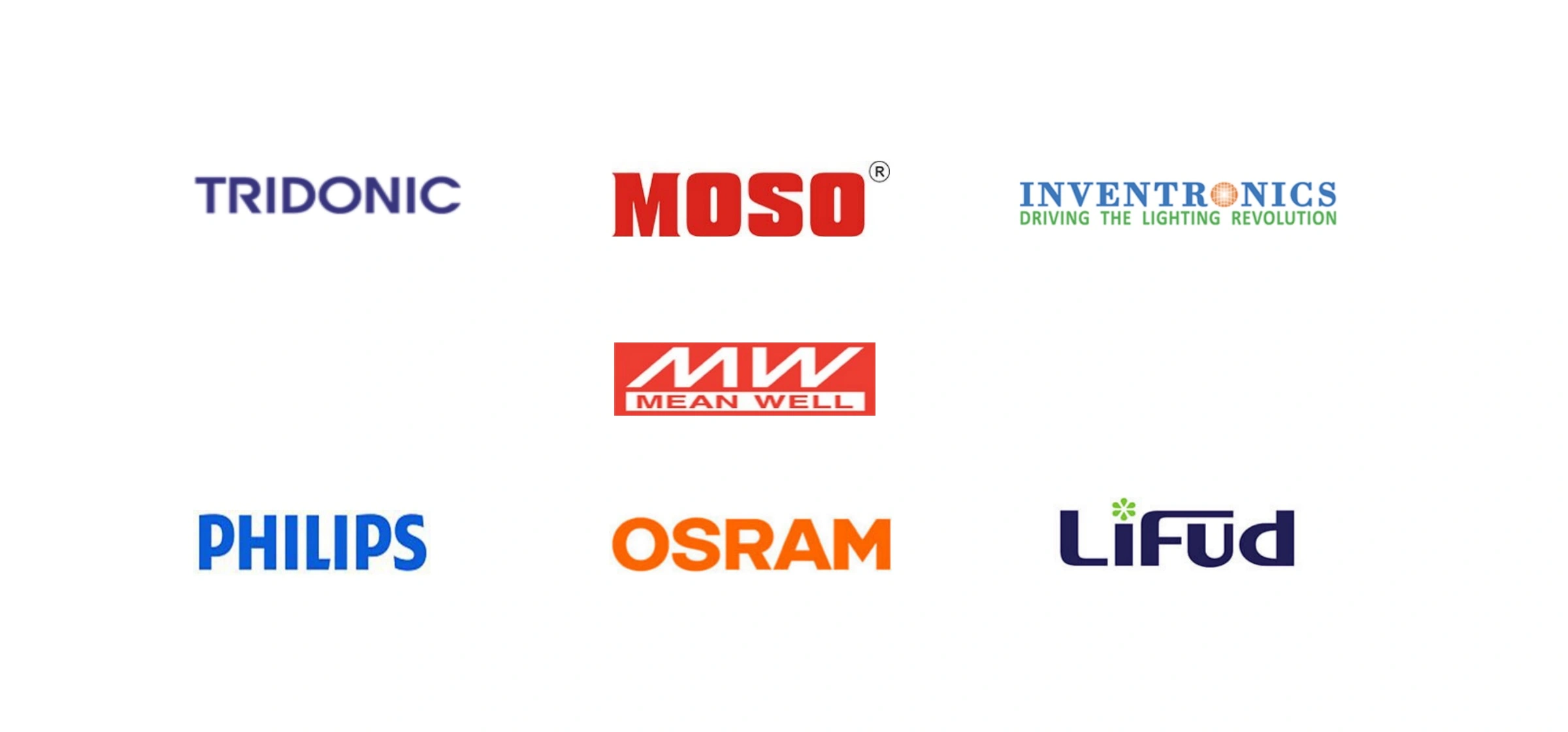 As we all know, LED switching power supply is very important in the lighting system. If you choose the wrong power supply, it will be a nightmare.

In order to help you find the right supplier, we have summarized the well-known LED driver & power brands as follows, from which you can choose the supplier that suits you.

I hope this list will help you
1. 
//www.meanwell.com/

Founded in 1982, MEAN WELL is one of the world's few manufacturers dedicated to standard power supply products. It is ranked the 4th in global power supply (DC output) makers according to a report by Micro Technology released in March 2021. 99% of MEAN WELL sales are standard power supply products sold under the MEAN WELL brand name. The other three companies' products are ODM/OEM.



2. 
//www.tridonic.com

As a leading global provider of smart and efficient lighting solutions, Tridonic empowers its customers and business partners to become more successful by making their lighting smarter, more connected, and more sustainable. Today, our component lighting solutions deliver superior quality, maximum reliability and impressive energy savings to provide our customers with a strong competitive edge.
3.
//www.inventronics-co.com/

Established in 2007, Inventronics is one of the world's top LED driver manufacturers specializing in building innovative, highly reliable and long-life products that are certified compliant to all major international safety and performance standards. We design our own drivers at our headquarters in Hangzhou, China and have specialized teams that focus on low, mid and high-power designs as well as teams for network controls and accessory products. Our drivers are manufactured within our Science and Technology Park in Tonglu, China.  We encourage factory visits for a first-hand experience of our commitment to quality.



4. 
//www.lifud.com/
Lifud Technology Co., Ltd. is an enterprise which aspires to be the world's leading supplier of LED driver and intelligent system solution.
Since the

 

establishment of Lifud in 2007, it has been adhering to the core value of "integrity, responsibility and dedication" and put them into practice.
5.
//www.mosopower.com

MOSO Power Supply Technology Co., Ltd. (hereinafter referred to as MOSO Power, Stock Code: 002660), established in 2006, was successfully listed on the SME board of Shenzhen Stock Exchange in 2012. It is a national high-tech company, a global advanced power solution provider and a benchmarking enterprises in the domestic power supply industry, as well as a top brand in Shenzhen, a famous trademark in Guangdong Province and even in whole China.
6. 
//www.eaglerise.com/

Eaglerise Electric & Electronic (China) Co., Ltd. was established in 1990s in Foshan, China. Now we have 3 production bases, 3 R&D centers. Eaglerise is devoted to provide competitive power supplies, component products and solutions to the global market. Our main product lines include 7 major categories and over 500 models covering LED driver, LED lighting fixture, solar step-up transformer, distribution transformerpower, industrial control transformer, vehicle power supply, communication power supply, widely used in the fields of lighting, renewable energy, industrial control, electricity utility, etc. Eaglerise is making continuous efforts to become a first-class  industry supplier.



7. 

//www.euchips.com/

Euchips specialises in the design and manufacture of dimmable LED drivers.
The company was founded in 2005 and our headquarters is in Shanghai, and main factory is in Suzhou, just west of Shanghai.
From the beginning we concentrated on electronic lighting controls. Our first products were RGB controllers, but since then our range has expanded continually, but always within our chosen field of dimmable lighting drivers and associated control components.

8. 

//www.osram.com/

As a global leader in optical solutions we offer a unique product and technology portfolio for sensing, illumination and visualization: from prime-quality light emitters and optical components to micro-modules, light sensors, ICs and related software.
9. 
www.lighting.philips.com

Philips Lighting - LED & Conventional lighting solutions




Philips Lighting is a global market leader with recognized expertise in the development, manufacturing application of innovative LED lighting solutions



10.

//en.huntkey.com/

Founded in 1995, Huntkey is a leading global provider of power strips, surge protectors, power supplies, adapters, chargers, monitors and air purifiers. Huntkey is an Asia renowned brand, a member of The International Power Supply Manufacturer's Association (PSMA) and China Power Supply Society (CPSS).




11.

//en.sosen.com/

Shenzhen SOSEN Electronics Co Ltd ,established in 2011, is a national high-tech enterprise integrating R&D, manufacturing,, and sales of high-power LED Driver. SOSEN'sproducts are widely used in domestic and foreign horticulture lighting, outdoor lighting, industrial lighting, landscape lighting, smart lighting, and other fields. SOSEN has launched IPO and was listed on ChiNext, Shenzhen Stock MarketJune 2021with stock code: 301002.
12. 
//www.ledstriplightings.com/

Hanron Lighting is a leading developer, designer, supplier and manufacturer of led strip light and led neon light in China.
Founded in 2010, Hanron has cultivated a group of talent of more than 100 people, including 10 technical engineers and 20 sales engineers. Our company passes the ISO9001: 2015 quality management system and most of our products are compliant with certifications like ETL, BIS, CE, RoHS, Reach, LVD, TUV CB, IECEE, TER, LM80, etc.
Conclusion
If you are looking to find the best
LED Driver & Power Supply Brands
, this list will help you.
If you want to source LED strips from China, please contact Hanron Lighting.
View more products >>