HD107s vs apa102 vs apa102c vs apa107 vs sk9822 led strip
author: Ivan Huang
2022-12-09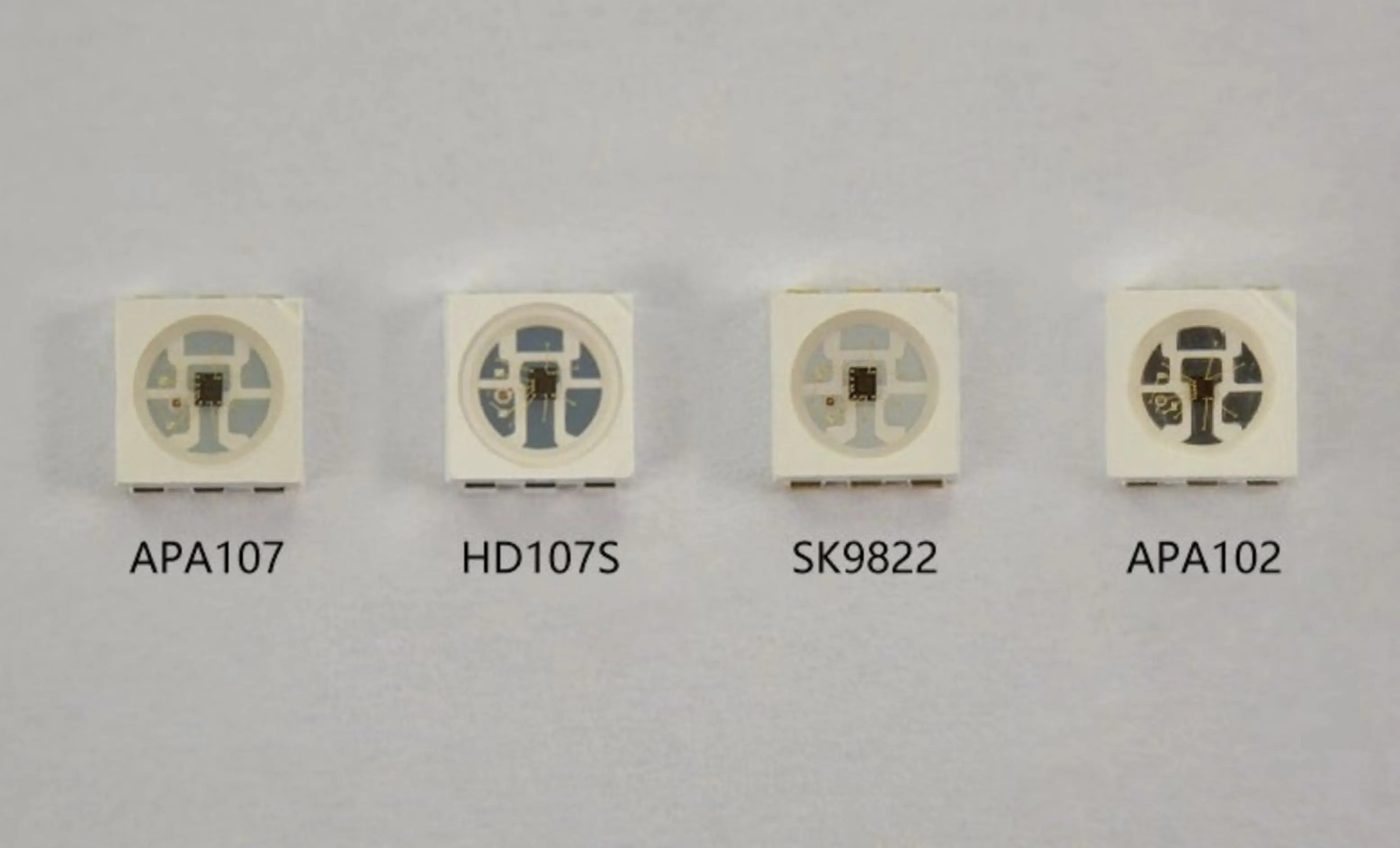 APA102 pixel LED Light Strip is a very classic product with high market popularity. Because it is a two-wire (CLK & DAT) data transmission, the refresh rate is very fast.
With the development of technology, there are many products with similar functions to APA102 in the market, such as HD107s, apa102c, apa107, sk9822, etc. It is difficult for our customers to distinguish these products clearly. Here I will introduce to you the difference between each product.
APA102 VS APA102C VS APA107
APA102 is a clone and upgraded product of the ws2812 led lamp bead. Compared with the ws2812 led lamp bead, APA102 has been improved in all aspects, so it is also called "Superled". There are mainly two series of products in the market, APA102, and APA102C, please refer to the following pictures for details: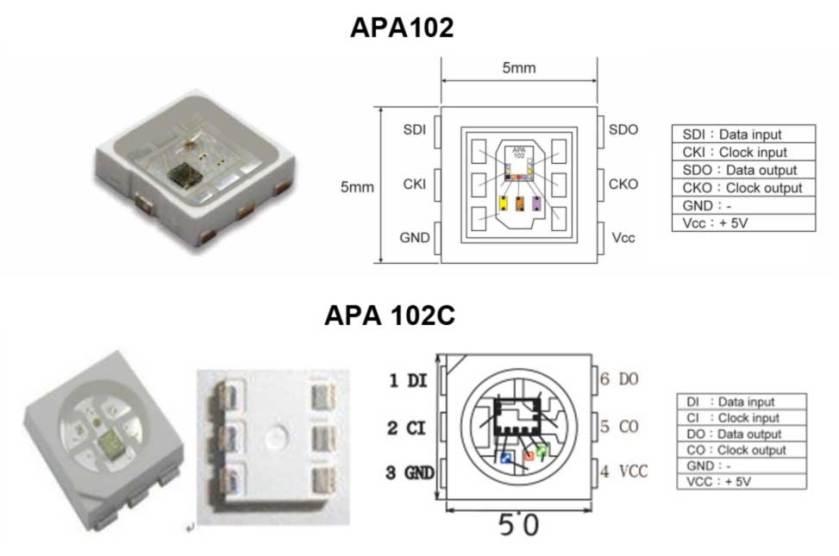 First of all, APA102 was developed in 2014. It was designed by the original factory and has a more complex structure. The refresh rate can reach 19KHZ, and the transmission rate can reach 30mHZ. At that time, no other product had higher parameters than it. However, high parameters also mean high prices and low sales. So, since 2016, APA102 is no longer there. Because the IC factory of APA102 lamp beads no longer provides chips. Therefore, only apa102c exists in the market now.

APA102C is a clone of APA102, not from the same company. The refresh rate and transmission rate of this product are far inferior to APA102, so it has not been recognized by the market.

Considering that the failure of APA102 is that the price is too expensive, so APA107 was launched soon. It can be regarded as the economical version of APA107, and the price is cheaper. However, its shortcomings are also very obvious, the refresh rate is only 9KHZ, and the transfer rate is 15MHZ. So, it's not a very good solution.
HD107S, the upgraded version of APA102, the effect is better



HD107S was launched in 2018, and it aroused everyone's interest as soon as it appeared. Because many of his parameters have surpassed APA102. The IC of this product comes from Japan, the design is more intelligent and reasonable, the refresh rate can reach 28KHZ, and the transmission rate can reach 40mHZ.
H107S supports a sleep mode providing up to 99% power reduction when the led is turned off.
In addition, a more interesting thing is that in addition to the size of 5050, DH107S also has 3535, 2020, and other smaller sizes to choose from.
If your product has higher requirements on refresh rate and transmission rate, hd107s is definitely a very good choice.
SK9822, a more cost-effective product
Compared with hd107s, the price of sk9822 LED lamp beads is more advantageous, and it is also an alternative product of hd107s. But, the parameters of sk9822 are much lower, the refresh rate is only 4.7KHZ, and the transmission rate is only 30mHZ. Of course, in many application scenarios, this parameter is completely sufficient. Therefore, this product also has a certain market.
HD107s vs apa102 vs apa102c vs apa107 vs sk9822 led strip light
| | | | | | |
| --- | --- | --- | --- | --- | --- |
| Items | SMD Type | refresh rate | transmission rate | Price | Note |
| HD107S | 5050,3535,2020 | 28KHZ | 40MHZ | High | |
| APA102 | 5050 | 19KHZ | 30MHZ | High | Not available now |
| APA107 | 5050 | 9KHZ | 15MHZ | Middle | |
| SK9822 | 5050 | 4.7KHZ | 30MHZ | Low | |
Why choose HD107s instead of ws2812 or sk6812 led?
Faster
HD107s support a varying data rate of up to 500,000 led updates per second. WS2812 only supports a fixed 30,000 LED updates per second.

Faster PWM rate
S2812 uses a 400hz PWM signal for color display. HD107s uses 27Khz, resulting in a much smoother image, better low-light performance, and availability for POV(persistence of vision) displays.

More Versatility
HD107s include a 32-level "brightness" value which increases the effective number of brightness levels from  256 to over 3,000 and improves fine brightness control at lower brightness levels.

Low power consumption
HD107s uses the latest in power-saving technology, offering a 25% reduction in power draw, and an automatic sleep mode offering up to 99% power reduction when the led is turned off.
Summarize
HD107s, apa102, apa102c, apa107, and sk9822 are all LEDs for two-wire data transmission, and the refresh rate and transmission rate are much higher than the ws2812 and sk6812 series products. However, their parameters and prices are also different. If you require better quality, it is recommended to choose the HD107S series; if you require products with higher cost performance, SK9822 is a better choice.