WS2811 VS WS2812 VS WS2813 VS WS2815 digital programmable LED strip
WS2811 VS WS2812 VS WS2813 VS WS2815 digital programmable LED strip
author: Ivan Huang
2022-12-12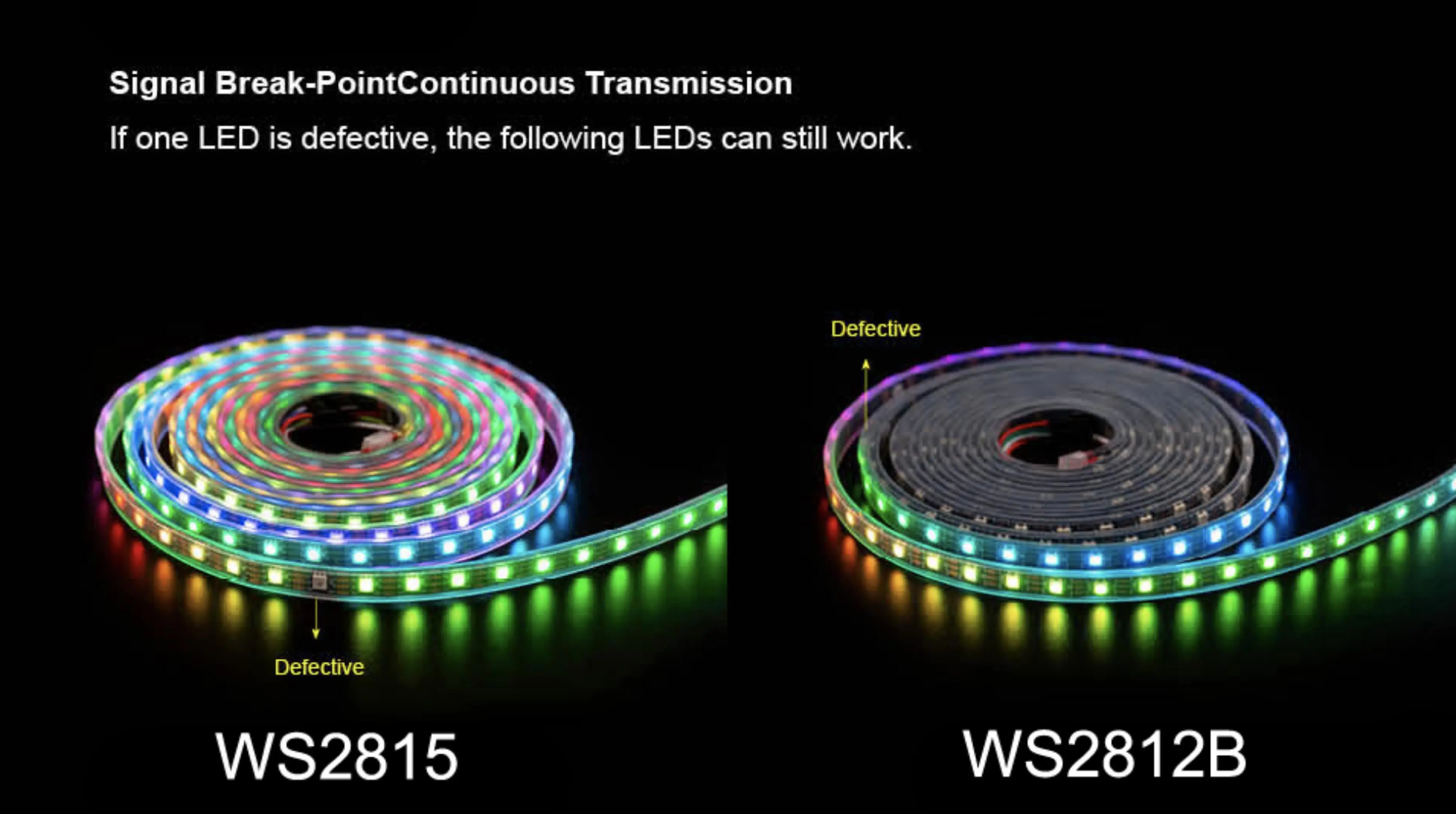 LED strips are becoming more popular in recent times. They are helpful, especially to illuminate areas or places that need intense lighting. You can use them anywhere to improve focus during tasks and enhance creativity.

For digital programmable led strip light, WS2811, WS2812B, WS2813 and WS2815 LED strip are the most popular items. Yes, many people don't know the difference between them.

Here, we will explain the main difference between WS2811, WS2812B, WS2813, and WS2815 LED strip step by step, hope it will be helpful for you.
Table1. A Comparison of The Differences Between WS2811, WS2812, WS2813 and WS2815
 
Item
WS2811 LED strip
WS2812 LED strip
WS2813 LED strip
WS2815 LED strip
Chip Size

5050/2835/3535

5050/3535/2020

5050

5050

IC

External IC

Built-in IC

Built-in IC

Built-in IC

Voltage

DC5V/DC12V/DC24V

DC5V

DC5V

DC12V

Color

RGB/White/ Dual white

RGB

RGB/RGBW

RGB

Break continues

No

No

Yes

Yes

Voltage drop

Low

High

High

Low

Reset time

250us

280us

250us

280us

Frequency

800Hz/s

400Hz/s

2000Hz/s

2000Hz/s

LED per meter

30/60/72/96/102/204

30/60/72/96/144

30/60/96/144

30/60/72/96/144

Output channel

3

3

4

4

Wires
Positive + Negative
 +Single Data line
Positive + Negative
 +Single Data line
Positive + Negative
 +Dual Data line
Positive + Negative
 +Dual Data line
Price

Low(+)

Middle(++)

High(++++)

High(+++)


Brief introduction of WS2811 led strip

WS2811 LED strip is an economically addressable led strip controlled by external IC WS2811. Each IC controls 3 LEDs hence every 3 LEDs are cuttable as one single pixel. Each pixel is individually addressable, which makes it very flexible in many applications.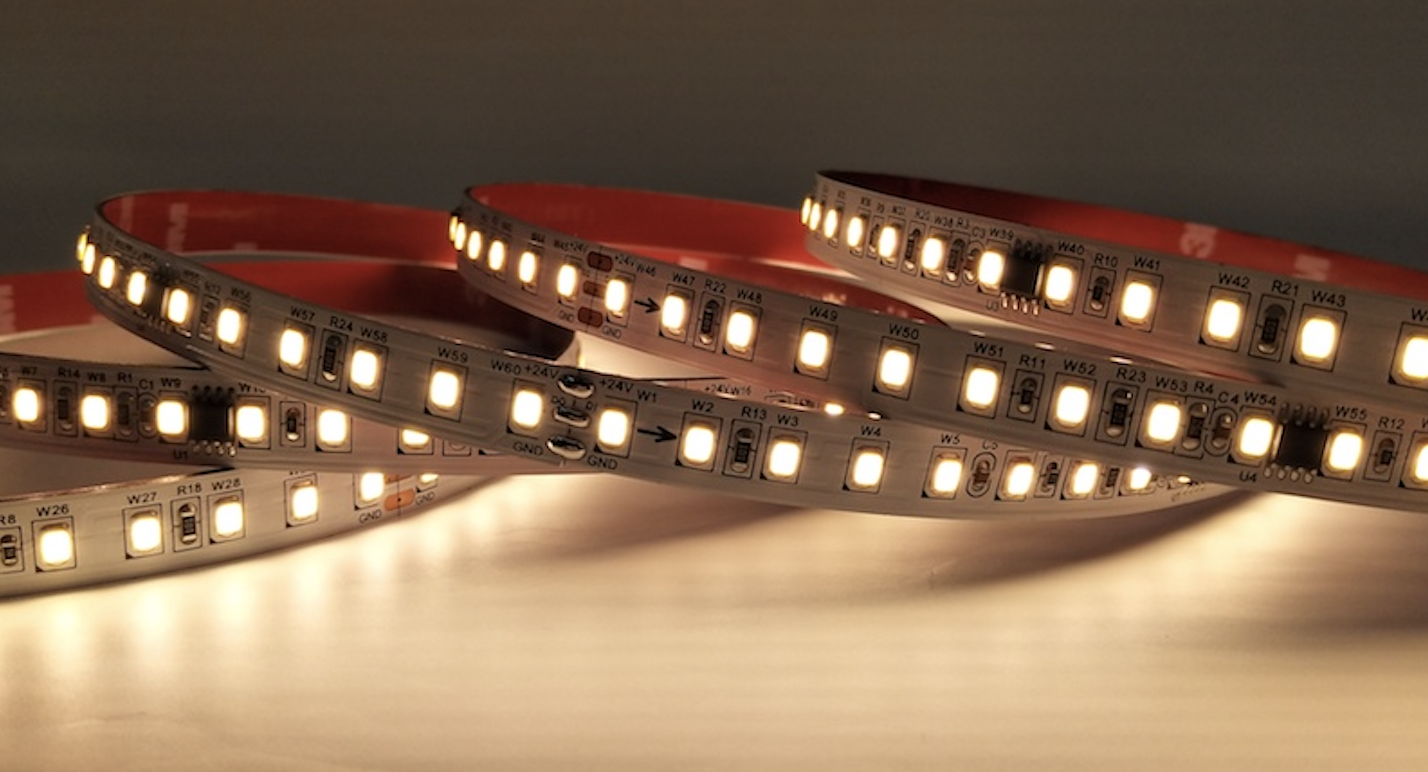 Brief introduction of WS2812 led strip

WS2812b LED strip is a 5V individually addressable strip, the IC is embedded into the 5050 LED, which makes it has a better lighting performance.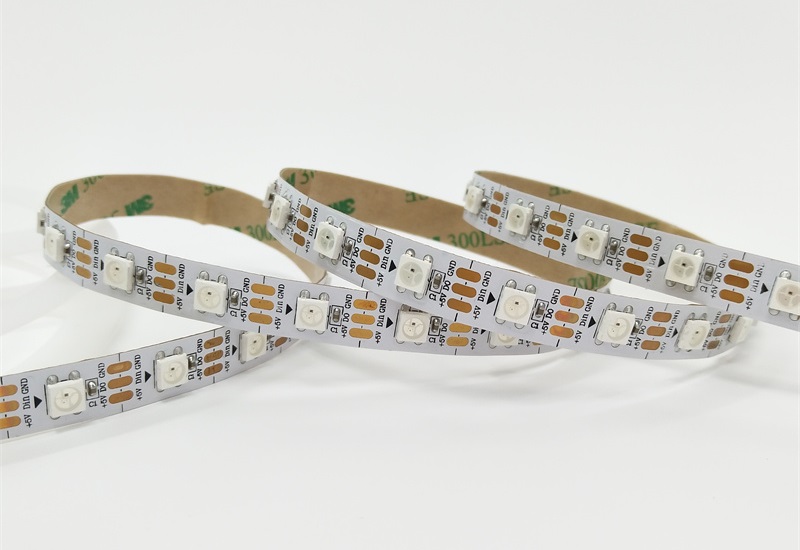 Brief introduction of WS2813 led strip

The WS2813 strip light is an updated version of the WS2812B, similar to how the WS2812B is an improved version of the WS2811, but with break continuous function, while one IC is broken, the signal can still pass through.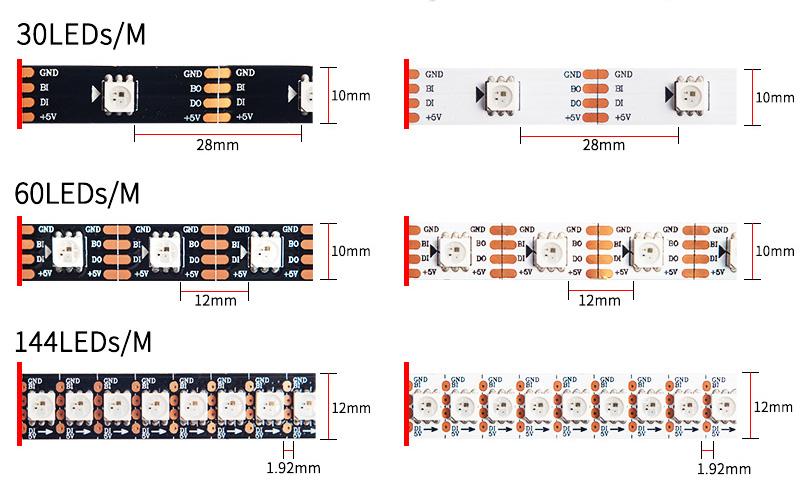 Brief introduction of WS2815 led strip
WS2815 led strip is an intelligent control LED light source that the control circuit and RGB chips are integrated into a package of 5050 components. Its internal includes an intelligent digital port data latch and signal reshaping amplification drive circuit. Dual-signal wires version, signal break-point continuous transmission. Any pixel's failure won't affect signal transfer and the total emitting effect.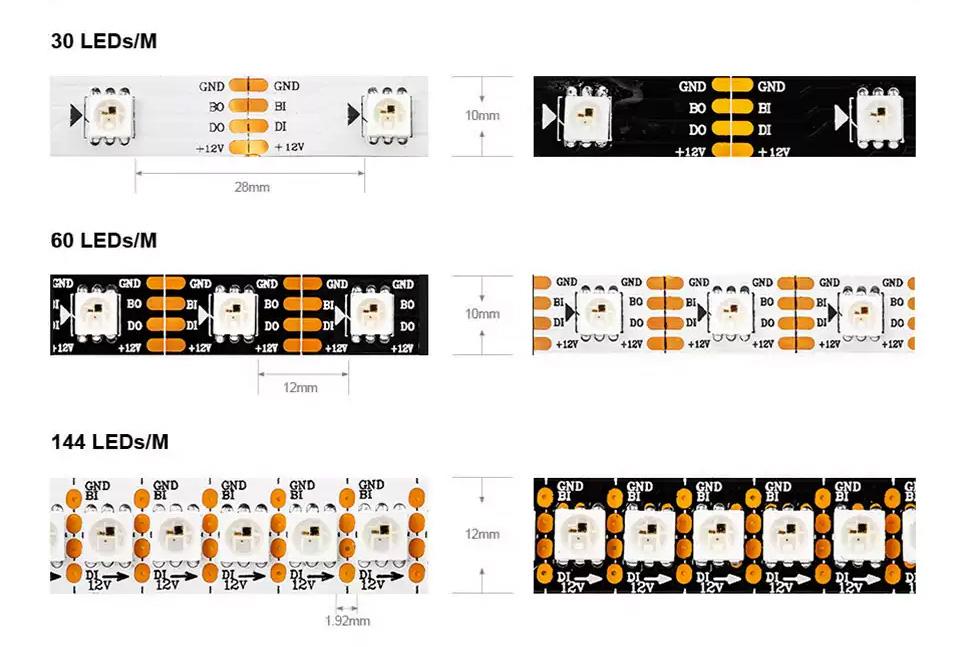 Individual controlled?

ws2811 led strip vs ws2812 ws2813 ws2815 led strip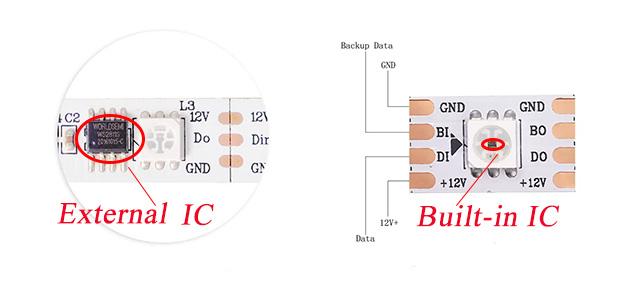 For ws2811 led strip light, it's with external IC. Normally, it's one IC control 3leds in 12V or 6leds  in 24V. So, ws2811 led strip light can't be individually controlled.

At the same time, all ws2812 led strip, ws2813 led strip and ws2815 led strip are with built-in IC. They are individually controlled.


Voltage Drop?

ws2812  ws2813  vs ws2811 ws2815 led strip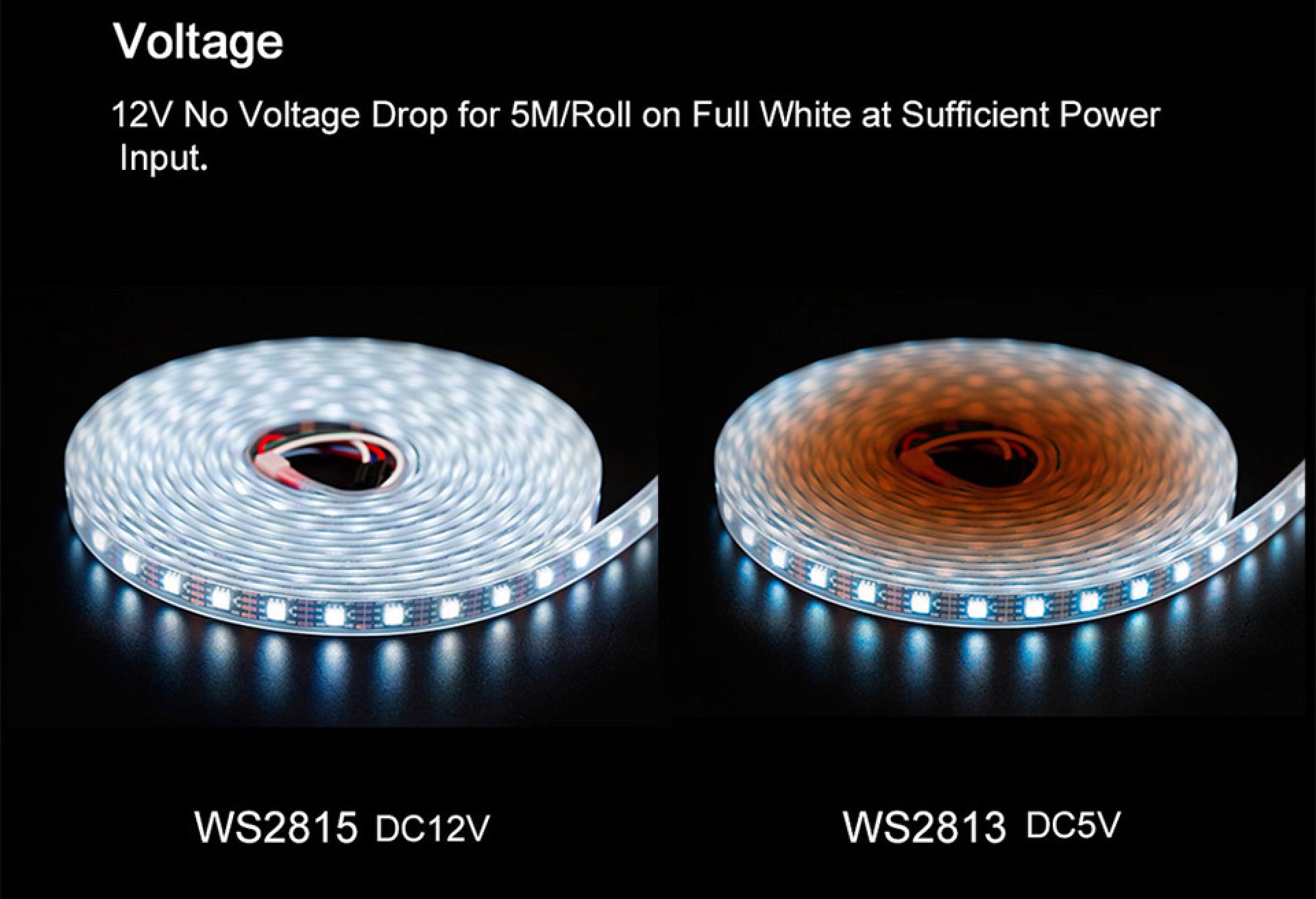 For ws2812 led strip and ws2813 led strip, they are only DC5V, normally, we can only make a max 5meter/roll. Even in this situation, if we turn on the led strip in white color, we can see the obvious voltage drop for the led strip.

For ws2811 led strips and ws2815 led strips, they are DC12V, so you can see only a little voltage drop when you light up the white color for the 5 meter length. Especially for ws2811 led strip light, we can even design it to be DC24V, in this way, we can make longer lengths, or higher power to reach higher brightness.


Dual-signal, break-continues function?

ws2813 ws2815 led strip vs ws2811 ws2812 led strip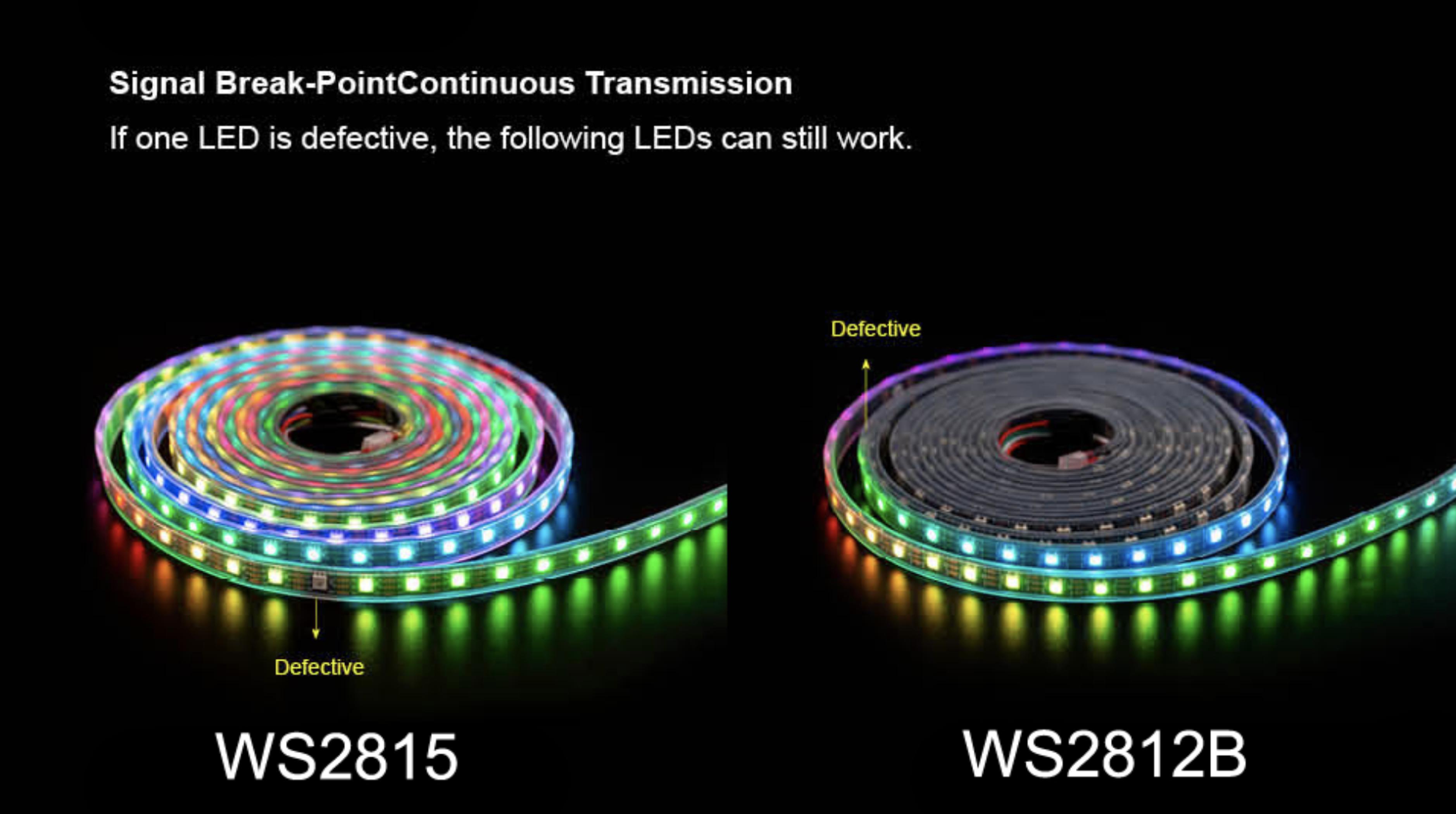 For ws2813 led strip light and ws2815 led strip light, both them are with dual signal circuits, they enjoy break-continues function. That means if one IC is defective, it will not effect the rest of the led strip.

For ws2811 led strips and ws2812 led strips, they are only single signal IC. If one IC break, the rest of the led strip will be effective or even unworking.


People also ask

1.  What is the difference between WS2812 and WS2812B?

WS2812B is the development and new generation of products based on WS2812. It not only inherited all the good qualities of WS2812 but also improved the IC from mechanical arrangement outside to the structure inside, further enhancing stability and efficiency.


2. What is the difference between WS2811 and WS2812?

While the WS2811 LED strip runs at 12V, the WS2812 LED strip uses 5V. As you can see, the WS2811 contains more LEDs than the other. Thus, it often results in some voltage drop through the LED strip. There will be lower voltage at some of the LEDs present at the edge of the strip


3.  Can you cut the WS2812B LED strip?

Practically all WS2812b LED strips can be cut into multiple smaller strips. Each of the copper pads can be cut in half and used to connect sections together. Wires can be soldered to each end.


4. Can the same controller be used for all ws2811, ws2812, ws2813 and ws2815 led strip?
Yes, normally it's OK. Here we recommend you choose K1000 and K8000 led controller. 
If you use a simple pixel controller with a specific connector, then please double check whether it's 3pin or 4pin. For ws2811 and ws2812 led strip, please choose a 3pin connector; for ws2813 and ws2815 led strip, please choose a . 4pin connector.


5.  Will the power supply to a WS2813 strip be different from a WS2815 strip?

Yes, WS2813 is DC5V and needs a DC5V power supply;  WS2815 is DC12V and needs power with a DC12V driver.


6. How does the reset time of the WS2813 compare to that of the WS2815?

The reset time of ws2813 is 250us, and ws2815 is 250us, enabling the WS2813 LED to work better at lower frequencies and less expensive microcontrollers.


7. WS2811 VS SM16703 VS UCS1903, which one is better?

SM16703 and UCS1903 have the same function as ws2811, their outlooking is the same too. You can't figure out the item type unless you check carefully on the IC which indicates the IC module. All of them are 3 pins, positive + negative + single data line.

SM16703 and UCS1903 are clones based on ws2811, just like sk6812 is an updated version based on ws2812 led. Also,  they are from different companies.