Ultimate guide on buying best LED strip lights in 2023
author: Ivan Huang
2023-02-27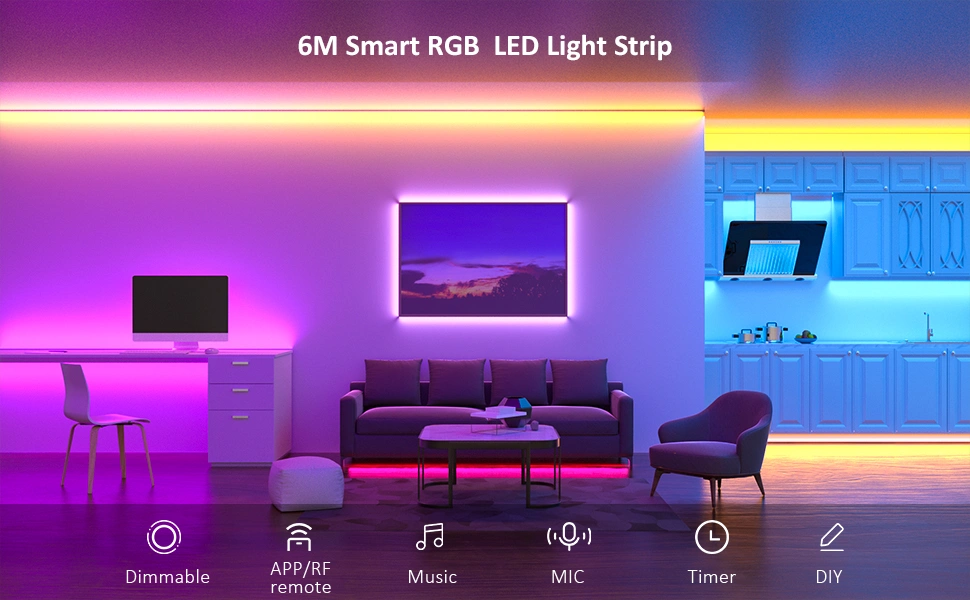 LED strip lights are a must-have product for home decor. When you do research on what LED strips to buy, you may find it complicated. This article introduces how to buy the best LED strips for your project. Hope it helps you in some way.
Led strip light are also called led tape or led ribbon, which are mainly ribbon luminous products made by welding LED lamp beads to the flexible PCB board. There are single-color, double-color, RGB, RGBW and RGBWW, etc., can be used for decorative lighting or even commercial lighting.
9 Key Points on Buying LED Strip Lights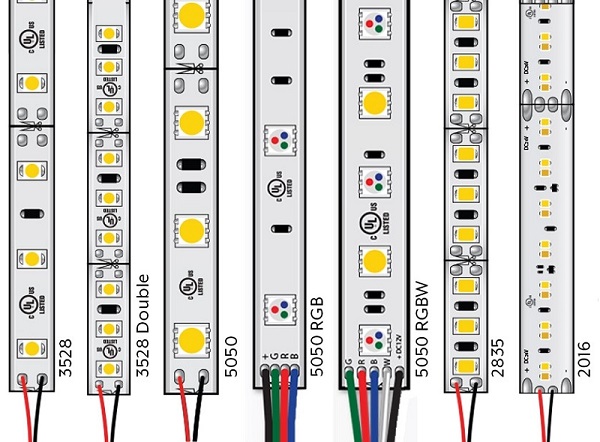 The LED Strips category is a broad category that includes all different types of LED strip lights. Depending on how you plan to use the LED strips, you may need one type over the other.
For example, IP65 LED flex strips are better suited for outdoor and wet areas as they have a protective covering that makes them waterproof.
Here are some popular led strip light for your reference:
RGBW led strip light                 /     RGB led strip light
High Brightness led strip light    /     COB led strip light
Lumen is the measurement of brightness as perceived to the human eye. Because of incandescent lighting, we are all accustomed to using watts to measure the brightness of light. Today, we use lumen. Lumen is the most important variable when choosing which LED strip light you need to look at. When comparing lumen output from strip to strip, note that there are different ways of saying the same thing.
The questions you should be asking is "Lumens per what? Per foot, meter, or reel? How long is the reel?" 
Different projects require a certain amount of brightness to achieve a desired look. Our advice is to always go brighter than required and add a dimmer. Running your LEDs below their full power and brightness can also increase lifespan.
| | |
| --- | --- |
| | |
| Accent Lighting and Mood Lighting | |
| | |
| Task lighting near source | |
| Task lighting far from source | |
| | |
| | |

Color temperature is something very different from the color of an LED light. Temperature indicates how 'warm' or 'cold' the light appears. Temperature is rated in Kelvin with higher Kelvin representing cool colors and lower Kelvin representing warmer colors.
Quick guide of suitable CCT for your application:
Temperature Kelvin

Light Color

Applications

5000K-6000K

Daylight

bathrooms, basements, study room, 

security lighting, hospitals, factories, 

3500K-4100K

Cool White

Bathrooms, Garages, offices, lobbies,

schools, garages, and the kitchen

2700K-3000K

Soft White

Bedrooms, Living Rooms, lounges,

cafes, bars, and restaurants
For more information on CCT, you can refer to 

Color Rendering Index (CRI) is a way to measure a light source's distinctive attributes. It is an assessment of how the light source shows object colors "naturally" when compared to a familiar basis of reference, either incandescent light or daylight.
Here is the reference for you:
CRI

CRI level

More explanation

95 - 100

Phenomenal color rendering

Colors appear as they should, subtle tones

pop out

and are accented, skin tones look

beautiful,

art comes alive, backsplashes and

paint shows

it's true beautiful full saturation.

You have to see

it to believe it! 

90 - 95

Great color rendering!

Almost all colors 'pop' and are easily

distinguishable. Noticeably great lighting

80 - 90

Good color rendering

You may not see items as fully saturated as

you

would like, but most people will not notice. 

<80

Poor color rendering. 

Items and colors may look desaturated, drab,

and at times unidentifiable.
LED count refers to the total number of LEDs that are mounted on an LED strip light product, typically per 5 meter reel. LED density, on the other hand, is typically defined as an LED quantity per meter or foot. Both are simple numbers that will eventually tell you how many LEDs you are actually going to get per unit length.

Common LED densities are 30/60/120 LEDs per meter (9/18/36 LEDs per foot). For a 5-meter reel, this corresponds to 150/300/600 LED count.
Waterproof function of the led strip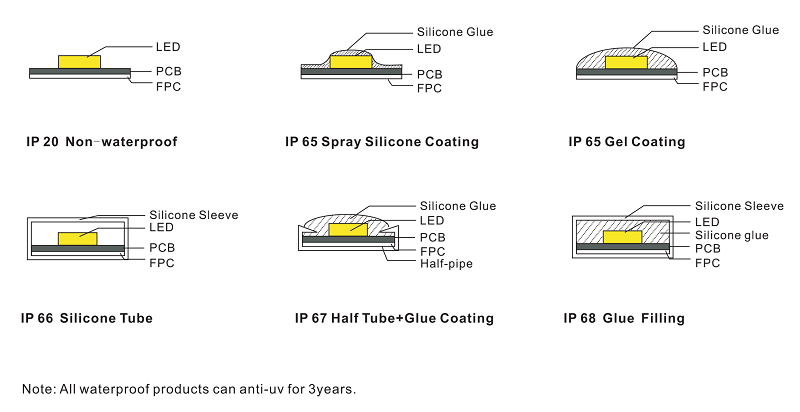 For different application, we need different IP rating led strip light. For example, if for indoor application, then we need IP20, if for outdoor application, then IP67 waterproof is better for your application.
Installation of the LED Strip Lights
Never buy LED strip lights without first considering how you will install them. If you are buying a flexible strip of LED lights with adhesive backing, then this may be as simple as sticking the lights where you want them to go and plugging them in. In other cases though, such as for complex installations where strips must be cut and programmed, the installation can get complicated. In regard to installation, always be sure to consider the following factors:
1) Required length of the strip/number of strips needed
2) Power and voltage requirements
3) Direction of the LEDs on the strip
4) Flexibility of the LED strip lights
5) Whether components such as connectors are needed
6) Whether the strip needs to be programmed
Dimmable function of the led strip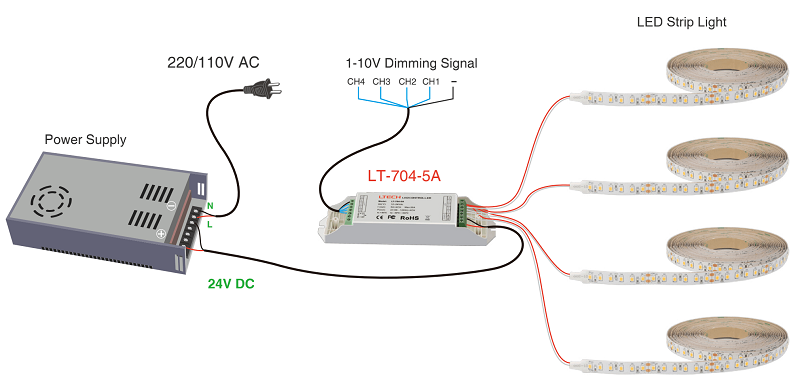 If you have an interest in experiencing variable light levels, you should keep your eye on the dimmable feature. The LED strip lights are dimmable, and the brightness of those ceiling LED strip lights can be adjusted. The dimmable feature is adjusted to the appropriate DC electrical signals.
Certificate of the led strip
Brand certificates not only make sure the high quality of the light strip, but also guarantee that you will not get no troubles during your Custom Clearance process. So, please always choose a led strip light that has a certificate for your market.
For us Hanron lighting, we've got many certificates for our led strip light, such as ISO9001:2015, CB, ETL, CE, RoHS, Reach, etc. You can down original certificate here:
Hanron Certificates
1. Which is better, 12V or 24v LED strip?
The 24v strip suffers less voltage drop than the 12v type. While the usual length-limit for a 12v strip would be 5m (powered from one end), a 24v can be run further, maybe 7m powered from one end. So if you need longer runs, you would pick the 24v type.
2. Which LED strip light is brightest?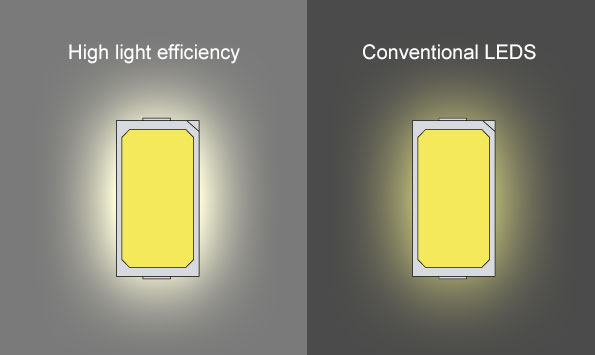 At present, the brightest LED strips on the market can achieve 5000lm/m. It adopts the design of 8LEDs/group, the light effect can reach 160-180lm/W, and the power can reach 30W/m. Of course, such a high power requires aluminum to cooperate with heat dissipation, otherwise, its light decay will be very high.
3. How do I select a LED strip power supply?
Make sure the total wattage of your LED strip lighting is at least 20 percent less than the power supply's rated wattage. For example, if you have an LED strip light that requires 80 watts of power to run, you'll need a power supply that's rated for at least 96 watts.
4.  Do LED strip use a lot of electricity?
Installed as your light source, LED strip lights guzzle less electricity to produce the same light output. The potential savings are very significant – LEDs draw up to 85% less electricity than conventional incandescent lighting, and around 18% less electricity than CFLs (Compact Fluorescent Lamps).
Shopping for LED strip lights doesn't have to be difficult, so long as you know what to look for. Most importantly, buyers will want to make sure they understand their options for installation, power demands, and colors. There are also many LED strip lights for specialized use, such as LEDs that are programmable.
For more information about LED Strip Lights and to inquire about your specific needs for any type of project, please call us Hanron Lighting.